There is Wu Ming, a collective of writers founded in Bologna, Italy, in 2000, and then there's the Wu Ming Foundation, which is a more vast and multifarious subject.
Today, what we call the Wu Ming Foundation– we coined the name in 2000, probably in assonance with Asian Dub Foundation – is a grassroots federation of collectives, inquiry groups and laboratories, as well as artistic, cultural and political projects which were all born on or around this blog. Very often, they developed from discussions on our books.
Let's proceed in order.
1. The Band of Writers and the Blog
We are the authors of Q, 54, Manituana and other historical novels, a form of expression which we practiced for many years, until we decided to go beyond it and use history in other ways.
L'Armata dei Sonnambuli [The Army Of Sleepwalkers] (2014) was the last novel of the sequence started with Q in the mid-1990s. At the same time, it already anticipated some change. Nowadays, we make use of what we learned by exploring that genre and constantly stretching its rules, and devote ourselves to further experiments.
In various phases of the band's history, our line-up comprised four, then five, then again four members. Since 2015 we've become a trio.
As singular authors we sign our writings and interventions as «Wu Ming 1», «Wu Ming 2» and «Wu Ming 4», in geometrical progression. The digits follow the alphabetical order of our last names: (Roberto) Bui, (Giovanni) Cattabriga and (Federico) Guglielmi.
As anyone can see, our names aren't secret. Simply, like many others did before us, in our literary works and cultural activities we use noms de plume.
In this page we'll give an account of our project's evolution during the 2010s. An evolution which cannot be separated from the workings of this blog, Giap, which we started in April 2010.
Giap is named after the newsletter we used to send via email during the 2000s, which reached 12,000 subscribers. In turn, the newsletter, for reasons it would be cumbersome to explain here (it was a complex allegory), was named after the Vietnamese general Vo Nguyen Giap, 1911-2013.
During the years the blog has become a laboratory teeming with experiments, collective inquiries and collaborative writing, continually influencing and reshaping our work.
[By the way, several years ago we also had a blog in English. It was ugly and irregularly updated – we didn't have the necessary time nor energy – but there was some interesting material. We froze the thing off in 2013, then took it down, but you can read it on archive.org. We sort of replaced it with a multilanguage Tumblr aggregator.]
2. UNOs – Unidentified Narrative Objects
For several years we've been exploring the lands where creative non-fiction becomes ever more hybrid. We're mapping an elusive intersection between investigative journalism, travelogue, narrative biography, environmental inquiry, and a postcolonial retelling of Italy's past.
Our first experiment with «unidentified narrative objects» was Asce di guerra [Hatchets of War],  which we co-wrote with Vitaliano Ravagli and was firtst published in 2000. Our dissatisfaction with the result triggered a self-critical reflection which lasted nearly ten years and led us to start over with new projects.
–
The books belonging to this set were written mainly by Wu Ming 1 and Wu Ming 2.
■ The Ciclo dei Sentieri [Quadrilogy of Paths] is a series of four books in which WM2 explores the transformations of Italy's landscape by walking along the routes of high-speed rail. Two books have already been published: Il sentiero degli dei  [The Path of Gods] (2010) and Il sentiero luminoso [The Shining Path] (2016).
■ Timira (2012) and Point Lenana (2013) form a postcolonial diptych on Italy's troublesome ties with Africa and the Balkans – which means: with her own imperialism. The books were both written by a member of Wu Ming and a co-author: WM2 and Antar Mohamed wrote Timira, WM1 and Roberto Santachiara wrote Point Lenana.
■ Cent'anni a Nordest [A Hundred Years In The Northwest] by Wu Ming 1 (2015) is an investigation on how the 100th anniversary of WW1 is evoking all kinds of cultural ghosts in the regions of North-Eastern Italy, which formerly belonged to the Austro-Hungarian Empire.
■ Un viaggio che non promettiamo breve. 25 anni di lotte No Tav [No Promise That This Trip Will Be Short: Twenty-five Years of No Tav Struggle] by Wu Ming 1 (2016) is a history-as-novel take on the most enduring and radical environmental protest in contemporary Italy.
In 2013, during a presentation of Point  Lenana in Rome, the author and critic Tommaso De Lorenzis described this field of work in a very effective way:
«Multi-person narrative mode (first singular person, then first plural person, then second singular person, then third person); a variety of registers of prose; a multiplicity of storylines kept together by a careful narrative direction; a peculiar way of going beyond the biographical genre; paths that keep opening and take us to other books, either existing or yet to be written… Books written collectively, using the most diverse materials; hybridation of novel and essay; disruption of timelines, and much more. By dint of talking about "unidentified narrative objects", by dint of reading them, comparing them, taking them apart in order to understand how they work, writing them any time we can, I think we developed a precise practical knowledge […] Therefore, yes: they are identifiable, and maybe we've identified them. We have radars that allow us to detect them and effective tools to analyze them.»
These are books that were born outside the cages of genres and we want them to remain extroverted, centrifugal, swarming with references to the world of voices and textualities from which they developed. And those worlds answer the call, as we're going to see.
3. JRR Tolkien, fantasy and children's literature
In the meantime, we worked a lot on fantasy fiction, mythology, literature for kids and young adults. We wrote the collections of short stories Cantalamappa (2015) and Il ritorno dei Cantalamappa (2016), and the novel Il Piccolo regno [The Little Kingdom] (2016), as well as essays like L'eroe imperfetto [The Imperfect Hero] (2010) and Difendere la Terra di Mezzo  [Defending Middle Earth ](2013).
The books belonging to this set were written mainly by Wu Ming 4, who also curated the new Italian edition of J.R.R. Tolkien's The Homecoming of Beorhtnoth Beorhthelm's Son (2011).
–
Wu Ming 4 did a lot of research on how Tolkien's literature and Tolkien-related imagery have been hijacked and appropriated by Italian neofascists since the early 1970s. He debunked their interpretations and in the process he co-founded AIST, Associazione Italiana Studi Tolkieniani.
4. The Wu Ming Contingent and other musical projects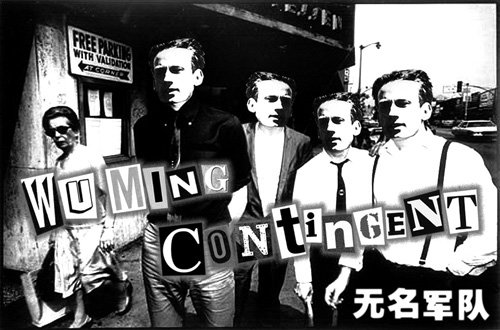 Since the beginning of our activities we've been experimenting with such forms as interpretative readings, spoken songs, literary recitals and the likes. We collaborated with many musicians, singers, rappers and other kinds of performing artists. We even have a proper musical section called the Wu Ming Contingent, a band whose line-up comprises:
Wu Ming 2 on vocals and synth;
Yu Guerra on bass and synth;
Cesare Ferioli on drums and electronics;
Egle Sommacal on guitars.
As of Autumn 2017, the Wu Ming Contingent has published two albums: Bioscop (2014) and Schegge di shrapnel [Splinters of Shrapnel] (2015). The latter is a concept album on the First World War. They were both released on  Woodworm.
The Wu Ming Contingent is also on Facebook.
We have worked and keep working with many musicians. Here you can listen to music composed for the occasion and/or inspired by our novels. Featuring Yo Yo Mundi, Colle der Fomento, Mr. Phil, Klasse Kriminale, Massimo Volume, Subsonica, Skinshout, Xabier Iriondo, Switters, Yu Guerra, Nabat, Sikitikis, Modena City Ramblers, Osteria Popolare Berica and many others.
5. The Wu Ming Foundation: a collective of collectives
Some discussions on Giap were so intense that they drove people to form their own collectives. The most famous ones are Nicoletta Bourbaki, Alpinismo Molotov and Quinto Tipo. And then there's that peculiar experience we've been having in Bologna as part of the Resistenze in Cirenaica meta-collective.
Nicoletta Bourbaki is an inquiry group devoted to the merry debunking of right-wing historical revisionism, history-related fake news and neofascist ideologies.
The project started in 2012 after a long discussion on Giap. The group comprises historians, researchers in various disciplines, writers and activists. The collective pseudonym is a transgender tribute to the ensemble of mathematicians collectively known as «Nicolas Bourbaki», who was active in France from the 1930s to the 1980s.
Nicoletta already has many investigations under her belt – the results of which were all published on Giap. They are mainly inquiries on neofascist manipulations of the Italian Wikipedia and on neofascist hoaxes concerning the so-called «foibe massacres» in Trieste, Istria and their surroundings. Foibe are natural sinkholes where Yugoslav partisans (allegedly) throwed the corpses of the Italian civilians they had (allegedly) killed «only because they were Italians» in 1943 and 1945. It's a warped, toxic narrative exuding all kinds of nationalist poisons and anti-antifascist legends.
Among her several inquiries, Nicoletta gave a decisive contribution to debunking the hoax of the – utterly unexisting – «foiba di Rosazzo», mockingly known as the «flying foiba», because its alleged location kept changing over time.
In February 2017 Nicoletta curated a series of articles and interviews for the weekly magazine Internazionale, all published under the umbrella title La storia intorno alle foibe [The History Around the foibe].
Nicoletta Bourbaki is also on Facebook.

Alpinismo Molotov is a collective of antifascist, anticapitalist trekkers, climbers and mountain bikers. The group was founded on and around Giap in the summer of 2014, developing from discussions on Point Lenana and Il sentiero degli dei. Their task is to develop critical approaches to trekking and mountaineering, two practices that are too often plagued with machismo, nationalism, competitiveness and commodification.
Alpinismo Molotov have their own blog. We quote from the Alpinismo Molotov manifesto:
«[The name "Alpinismo Molotov"] simultaneously defines a set of practices in constant evolution and the people who make them evolve […] We look at the mountains as part of the world around us: mountaineering is "molotov" [ie conflictual, TN] insofar as it unveils its own contradictions and implements new tools – conceptual, narrative, cognitive tools – to handle them. We go to the mountains in order to come back with new weapons to be used in everyday life. We go to the mountains with the awareness that we always walk in precarious equilibrium.»
Alpinismo Molotov also performs antifa rituals of  decontamination on mountain sites where neofascist had rallies, or peaks where neofascist mountain clubs raised their banners and flags. The comrades decontaminated  Mount Učka (Western Croatia) in March 2015, and the Cansiglio Plateau (North-Eastern Italy) in August 2017. The latter was a joint expedition by Alpinismo Molotov & Nicoletta Bourbaki.
In June 2017 the VisRabbia social centre in Avigliana (Susa Valley) hosted the first national three-day festival of Alpinismo Molotov. Here's a collective account.
Alpinismo Molotov is also on Twitter and Facebook.

Quinto Tipo [Fifth Kind] started in 2014 when the debate on unidentified narrative objects and hybrid narratives made clear that we needed another laboratory, and a place where to publish other people's experiments.
Quinto Tipo is at the same time a series of books edited by Wu Ming 1 and published by Edizioni Alegre, a blog and a collective of authors and editors.
As we're writing these lines (October 2017), Quinto Tipo has already published 9 books and the tenth – Hevalen. Why I went to Syria to fight ISIS, by Italian YPG volunteer Davide Grasso – is being edited for publication.
Resistenze in Cirenaica is a «permanent cultural workshop» and a meta-collective including Wu Ming and many others. RIC was born in the Cirenaica neighbourhood of Bologna, which was built in 1913 and named after the eastern region of the recently conquered Lybia. The streets were named after cities and hallmarks of the new colony: via Tripoli, via Bengasi, via Homs and so on. The situation drastically improved in 1949, when the streets were renamed after partisan heroes fallen during the Resistance. However, the neighbourhood and the largest via (Via Libia) kept their old names.
Since 2015 RIC has been digging up stories of resistance to Italian colonialism and fascism, organising urban trekking walks, researching the history of the neighbourhood, painting murals, and protesting the administration's neoliberal city (un)planning. RIC's headquarters are in the social centre Vag61 and in a public park named after anarchist railwayman Lorenzo Giusti.
Resistenze in Cirenaica publishes a review called «Quaderni di Cirene» [Cyrene Notebooks]. As we're writing these lines, three issues are available.
Resistenze in Cirenaica has a blog and is also on Facebook.
6. The Wu Ming Labs
As writers, we never limited ourselves to telling stories: we always disassembled and reassembled them in public, criticised them, discussed them, transformed them, spun them off with the help of anyone who fancied to leave comments or even take on the task of writing. We did it with any stories we deemed to be of interest, not only with those we chose for our novels. That's how this blog became a laboratory where «narrative toxins» can be analysed together.
Far from being a «collateral activity», this is the very core of our work. This has become ever more apparent over time, which is why we started receiving invitations and proposals to organise conferences, workshops, seminars and courses.
In December 2013, in collaboration with Laboratorio 41 in Bologna, we opened our itinerant factory. A factory where stories where stories are disassembled, detoxified and collectively rewritten in a quest for alternative ways of telling them, a way that's free of the «technified myths» of power.
Since then we have animated many workshops, whose results were published as books and booklets (Intrecci; Un passo oltre; GODIImenti and GENomi antiFUFFA). Wu Ming Labs also included trekking walks on the "Via degli Dei" [Way of Gods] from Bologno to Firenze, which we co-organised with Compagnia dei Cammini, and the many «physical extensions of Giap's commentary» which we implemented all across Italy.
In 2014, out of a Wu Ming Lab sprang a new collective of writers, the all-female quartet Joana Carda, who recently authored a – yet unpublished – novel, Le molte vite di Magdalena Valdez [The Many Lives of Magdalena Valdez].
In 2015, out of a Wu Ming Lab directed by Wu Ming 2 and writer Ivan Brentari sprang the Collettivo MetalMente, entirely formed by metalworkers and other members of the blue collar class. They wrote a collection of stories on factory life and class struggle, titled Meccanoscritto [Mechanoscript] (2017).
–
7. We Want The Asteroid and other collaborations
Since the old days of our «total novel» Ti chiamerò Russell [I Will Call You Russell] (2001) – an experiment in collaborative writing whose main consequence was the birth of our «cousins», the Kai Zen collective of writers, who are now part of Resistenze in Cirenaica – we directed or simply instigated many projects of collective storytelling and literary jam sessions.
The results were «mosaic novels» and anthologies such as Tifiamo asteroide. Cento racconti per annientare il governo Letta [We Want The Asteroid. 100 Short Stories to Annihilate the Letta Government] (2013), Tifiamo 4. 34 fotoracconti scritti sull'acqua [We Support 4. 34 Photostories on Water] (2014) e Tifiamo ScaRamouche [We Support ScaRamouche] (2015).
We collaborated with TerraProject, a collective of photographers, for the collection of «photostories» Quattro), with the Bologna-based HomeMovies archive for the short film 51 (which we're embedding below with English subtitles) and with Circo El Grito for the show Piccolo Circo Magnetico Libertario [Little Libertarian Magnetic Circus].
The theatrical company Compagnia Fantasma adapted many of our novels and stories into spectacles and radiodramas. They are part of Resistenze in Cirenaica as well.
We collaborate with a street artist. His name is Blu.
We often collaborate with a magician, nay, a wonder injector. His name is Mariano Tomatis.
Giap is Wu Ming's blog, but it's also a community of readers and writers, and the place where all the paths and threads described above can meet and intertwine.
8. To sum it all up…
–
↑ Here is a presentation Wu Ming 1 did at Kino Šiška, Ljubljana, on October 18th, 2017. The context was the conference «Proper and Improper Names. Identity in the Information Age», organized by Aksioma.
The presentation provides a genealogy of the Wu Ming Foundation, as well as a map of our current collectives, projects and activities. The focus is on "psychic warfare", seen as part of the legacy of the old Luther Blissett Project.
–
↑ And here's the version with Wu Ming 1's (sometimes a little garbled) voiceover.–
–
↑ Here is another presentation Wu Ming 1 did at Medialab Prado, Madrid, during the cocTELL3 workshop, December 14th, 2017.
The subtitle is Territorial Exploration as a Form of Collective Writing and Collective Writing as a Form of Urban Intervention. It's an account of our projects and activities centered upon geography, walking, mapping the territory, and evoking ghosts.
That's what we mean when we say Wu Ming Foundation, which in Chinese is written 无名基金会 and pronounced WMF_in_cinese
«Here the future is present already. / Those who have comrades will not die.»
(Franco Fortini, L'Internazionale)
Last update: December 20th, 2017.