Luther Blissett
Q
romanzo / novela / novel
1a ed. it. 03/1999
16th Century. Two main characters. One wants to overthrow the social order. The other is a spy in the service of the forces who want to maintain it. Q is the spy, in the pay of Father Carafa, an ultra conservative figure, rapidly rising up the hierarchy of the Catholic church. An epic from the bowels of history, set in central Europe and Northern Italy. Someone described the book as "a theological western".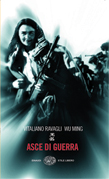 V. Ravagli & Wu Ming

Asce di guerra

oggetto narrativo
1a ed. it. 10/2000
Nuova ed. 05/2005

Hatchets of War. One third autobiography, one third non-fiction novel, one third essay. The story of Vitaliano Ravagli, a young leftist who gets sick of mid-1950's Italy and goes to Indochina to join the Lao guerrillas fighting Colonialism. In today's Bologna, a young lawyer tries to find the mysterious "Italian vietcong" whose legend is told among old Partisans.

Wu Ming

54

romanzo / novela
1a ed. it. 03/2002
1954. Hollywood actors, cold warriors, mobsters, drug dealers and homing pigeons. What will Yugoslavian president Tito do, now that Joe Stalin is dead? What is the hidden link between Lucky Luciano in his Italian exile, Cary Grant in schizophrenic combat with himself and a stolen TV set which turns out to be self-conscious and sensitive to boot? So far, the most ambitious Wu Ming collective novel.


Wu Ming
Manituana

romanzo / novela / novel
1a ed. it. 03/2007

1775. In Massachusetts, the conflict between the British Empire and the American colonies becomes all out war.

In the colony of New York, the Six Nations - or "League of Peace and Power" – must decide if they are going to participate in the war, and alongside whom.

In the Mohawk River Valley a mestizo world exists. It is a great community of Indians, Irish and Scottish, founded by Sir William Johnson, Superintendent of Indian Affairs appointed by King George. The thunder of war is heard in Boston and continues getting closer, old bonds are broken, the land that Sir William called "Iroquoireland" becomes a scene of hate and resentment.

The war chief Joseph Brant Thayendanegea has to make a decision and set off, taking his people far from their native land, going beyond the world he has always known.

Manituana

has been translated into

Spanish

,

English

and French.

Español





PDF

, 1.3 mb