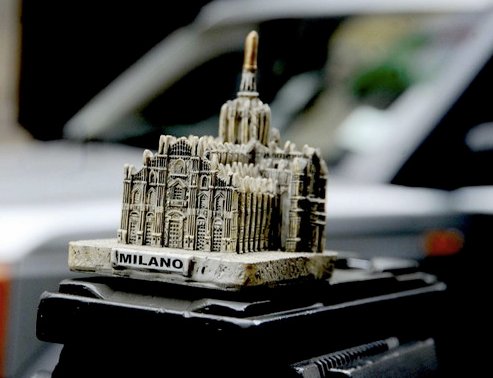 [Yesterday's tweets on what happened in Milan:]
B. called "a miracle" that he survived the assault. No, it's a miracle he's still around after 15 years & with such an obsession for death.
From the hospital: "Why do they hate me?" Maybe he really wonders why. For yrs he's been living in a world apart, surrounded by yes-men.
Little girl, 4 yrs old: "Dad, what happened?" Dad: "A nutter hurt a villain". Little girl thinks it over, then: "It's a stupid story!"
@Meandy maybe Tartaglia and Berlusconi have more things in common than they'd want to know. Two delusional types bumped into each other.
Tartaglia from jail: "I HATE BERLUSCONI!". Yeah, we kind of imagined that. Whatever the reason, how discourteous to jump such a long queue!
One of B's aides "He will not exploit the assault in the next election campaign". Usual self-negating denial, but there's something strange.
It sounds like he and his clique were *really* taken aback, like they're having problems trying to impose the Reichstag frame.
Opposition leader Di Pietro: "I'm no hypocrite, I won't visit B. at the hospital". We Rn't fans of this guy but it's the right thing to say.
Shopping frenzy in Milan. People rushing to buy a Duomo souvenir like the one used to smash Berlusconi's face. No joke, it's happening.
The right-wing wants to shut down websites and social networks where people are boisterously expressing solidarity to Tartaglia.
"Sow wind and reap whirlwind". Because of this title on Di Pietro's blog http://bit.ly/6yTMFP a spokesman for B's party wants it closed down
Reports say he's really in pain & can hardly eat. He didn't expect it. He's shocked. From now on, everything will be different in his life.
RT @synthjock: First Tiger Woods, now Berlusconi. It's really not an auspicious time to be an oversexed billionaire right now.
When politicians get smacked. A top 10 list of assaults, http://bit.ly/5Fd72L
"Berlusconi looked like Floyd Patterson after a 7 round drubbing by Mohammad Ali" CounterPunch http://bit.ly/52Kk6A
Bogus pro-Berlusconi groups on Facebook. Names were changed, hordes of people found themselves enlisted as fans of B. http://bit.ly/71RLxx
Name of a huge FB group raising funds for earthquake victims changed to "Support Silvio Berlusconi against Tartaglia's fans".
t least 500,000 unaware people were passed on as fans of Berlusconi when FB group names were suddenly replaced, reports La Repubblica.
Until this morning, this Facebook group was devoted to promoting Italian brands, then the administrators renamed it http://bit.ly/8t5jfG
Until this morning, this Facebook group with 1 million members was devoted to protecting animals, now look at it http://bit.ly/6kqxUL
"I found him shaken, annoyed – as if woken, really out-of-sorts, from a bad dream." A bad dream. What an interesting thing B.'s doctor said.