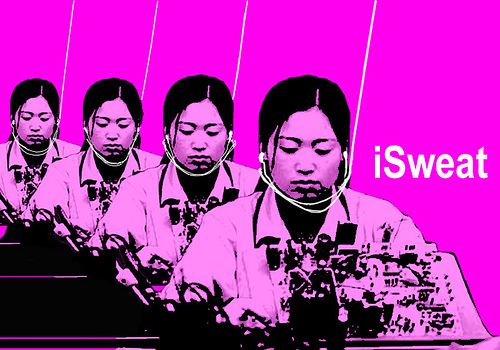 [The original version of this essay was published on Giap on 26 September 2011, which means several days before Steve Jobs died. The French version was published on Article XI on the eve of Jobs' death. The piece had already received a lot of attention, backlinks and comments when the news arrived. However, it obviously sky-rocketed to the status of "crucial" text as soon as the media landscape was filled with iGrief, and it kept attracting people when anonymous cultural activists "displaced" the discussion on iGrief by creating the "Steve Workers" persona. The present English translation was done collectively on a Wiki page on Mauro Vanetti's website. Many thanks to Mauro, SandorKrasna and all the guys who gave a hand. This version retains some additional mini-explanations Wu Ming 1 wrote for the French readers. We also inserted a few additional links that weren't in the original text but came up during the discussion.]

.
Last week a Pennsylvanian daily newspaper, The Morning Call, published a long and detailed inquiry – entitled Inside Amazon's Warehouse – on the appalling work conditions at Amazon warehouses in the Lehigh Valley. The article, resulting from months of interviews and direct checks, is being spread around the world and has gotten coverage from the New York Times and other mainstream media. The picture is grim:
- extreme job insecurity, a mood of perpetual blackmailing and lack of rights;
- inhuman work routine, with a pace that can be doubled overnight (from 250 to 500 units per day, with no advance notice), at an internal temperature beyond 40 Celsius that at least in one case reached 45 °C (114 °F);
- disciplinary actions against workers who slow down the pace, or simply faint (a report of the 2nd of June mention the fainting of 15 workers due to heat);
- "exemplary" immediate sacking, with the guilty escorted outside before the eyes of co-workers.
And there is more. Read the whole piece, it is worth it. The key sentence was said by a former Amazon warehouseman: "They're kiling people mentally and physically".