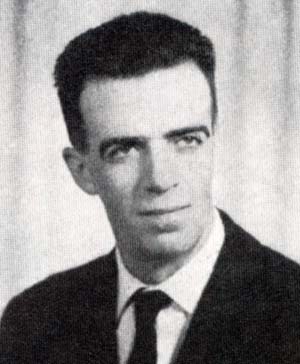 [This article was published on the Italian edition of GQ magazine in July 2009]
Only a few relatives and aficionados celebrated the quarter-century of the death of Peter Kolosimo, the 1970s "fantarcheologist" and paleo-ufologist who fed the multitudes with dreams and visionary books. He died at sixty-two on March 24, 1984, but we like to think that he just left the planet.
Kolosimo is a figure to be rediscovered: he left us with many questions and his heritage is still meaningful. Timeless Earth, Not of This World, Space-ships in Prehistory, Odissea Stellare, Italia Mistero Cosmico… Those titles have never ceased to arouse our fantasies. And what's with those lists on the frontcovers, halfway between subtitles and newspaper placelines? "Ulysses as a time traveller. The gods and outer space. Cyclops in America? Mythology of other worlds. Atomic bombs and robots in Homer's epic." Or: "Spacecraft graffiti in the rocks. Martians in Vietnam, elephants in America. Unknown races in the Amazon jungles. Atomic bombs and lasers before the flood. Is Gilgamesh still alive?"
Not to mention such blurbs as: "The first comprehensive photographic documentation of space archaeology – 300 pictures."
Those were brilliant covers which asked you take sides on the spot: vehement rejection or feverish desire to purchase, there was no middle ground. Kolosimo's books, published in Italy by SugarCo, were great popular fiction disguised as non-fiction, you saw them in every house, they sold hundreds of thousands of copies. Kolosimo is one of the most translated Italian authors in the world, his books were published in 60 countries.
Beware though not to mistake Kolosimo for one of those contemporary charlatans and hustlers raving about the mysteries of pyramids or the Priory of Sion, or those paranoids producing busloads of conspiracy stories on the web. Kolosimo hated Dan Brown without even knowing him, ante litteram. And he hated Giacobbo too, he hated him pre-emptively, without having ever heard of him. He would have him deported to Siberia, him and his chupacabra.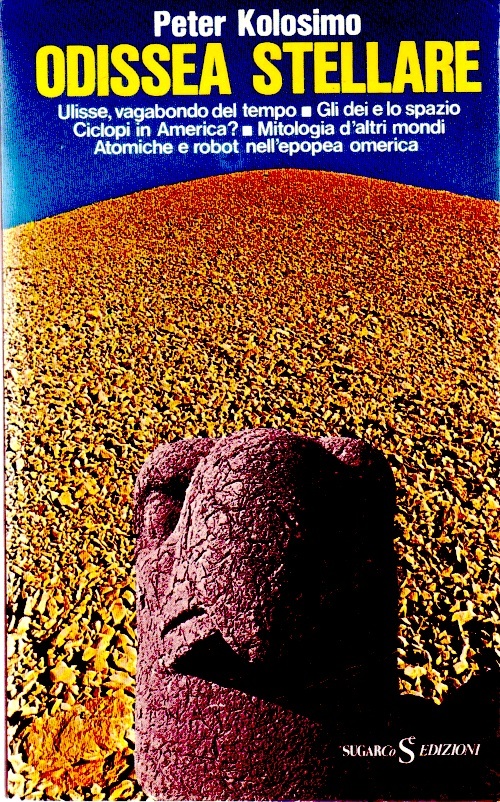 Kolosimo was a visionary Marxist-Leninist, a hard and impure Communist. He believed in the revolution and thought that discoveries about the extraterrestrial origins of human civilizations would contribute to our awareness. He wanted to connect our ancient past with an utopian future, and liberate the world. To him occultism, esotericism and the likes were only reactionary by-products for the petty bourgeois. Even when he wrote on alchemy in Dust of Hell (1975), he specified that alchemy is not magic but science, albeit a "different" science.
In Odissea stellare (1978), Kolosimo makes a reference to the assumption of some occultists, according to whom Hitler's regime fell because it attracted misfortune by turning the swastika to the right, while in ancient Eastern traditions it was always oriented to the left. Kolosimo's ensuing comment is disdainful: "We are very far from such theories and think that the empire of the German criminals fell for completely different reasons." Having been a partisan, how could he not say so?
Kolosimo was a polyglot citizen of the world: his mother was American and his father Italian, and he also spoke a fluent German thanks to growing up in Bozen [a completely bilingual town in South Tyrol, t.n.]. He graduated at Leipzig, joined the Resistance in Bohemia and was "one of the first partisans to encounter the Red Army in the zone between Pilsen and Pisek" (see the biographical note in Civiltà del silenzio). After the war he turned his attention eastwards and for a little while was chief-editor at Radio Capodistria. When Yugoslavia broke with the USSR he was fired for siding with the latter. He became a foreign correspondent for L'Unità [official newspaper of the Italian Communist Party, t.n], announced the launch of the first Sputnik "a month before that memorable enterprise" and gave the news of Valentina Tereskova's first space flight. Meanwhile, he was writing science fiction novels under the pseudonym "Omega Jim". During the 1960s he shifted to the popularisation of science, with that fantastic twist which would make him famous.
Kolosimo's books are crammed with quotes from Russian scientists, Bulgarian scientists, East German scientists: "As Professor Alexei Kasanzev proved", "Kardasev writes", "The Soviet biologist A. Oparin" "In 1937 Nikolai Brunov wrote","Vyacheslav Saitsev, the famous philologist from Belarus" and so on. Now this may sound grotesque and laughable, and we are even driven to make extreme hypotheses: was Kolosimo an agent of the Eastern bloc in charge of spreading weird theories throughout the West, for sinister purposes of psychological warfare? Who knows. Perhaps reality is more simple: he could read those languages, had access to that material, and the readers appreciated. During the Cold War, seen from here, Soviet science was a strange thing, it had a vibration of exotic heterodoxy, even in the eyes of those who fought for the other model, that of capitalist America. Curiosity for the East was a widespread phenomenon, as is Ostalgie today: a yearning for Socialism's Good Old Days.
We like to regard Kolosimo as a warrior, one who fought against the narrowing of imagination. At the same time, he wanted imagination (even at its most unbridled) to keep its roots in reality and the ongoing conflict that moves the world. After all, despite his Stalinism, Kolosimo was not so far from Radio Alice and the young "Mao-Dadaists" of 1977.
Kolosimo filled a hole, a gap in the culture, as well as a niche in the publishing market. At that time, hyper-ideological intellectuals had decreed the "death of the novel." And yet the need for romance wasn't extinguished: at newstands Urania, Segretissimo and Il Giallo Mondadori [respectively the biggest science-fiction, espionage and mystery magazines in Italy, t.n.] sold an unbelievable number of copies. However, those were specific publications for specific target readers. Italy needed a more foolhardy operation, one that could overcome the fences and reach a wider public. Kolosimo intercepted the appetite for travel and mystery that pervaded the whole West (flying saucers, the Bermuda Triangle, Uri Geller bending spoons by sheer power of thought) and "hijacked" it in an unexpected direction. By disguising his science fiction stories as non-fiction, old Omega Jim created a great phenomenon.
In 1969 he won the Bancarella Prize. In later years, it was won by Giulio Andreotti (1985), Vittorio Sgarbi (1990), Gianpaolo Pansa (1997) and even Bruno Vespa (2004) [They are all unpleasant characters of Italian politics and/or right-wing journalism, t.n.]. Comrade Kolosimo, we miss you so much. Come back from the planet you're on now, and stir up a storm of cosmic rays against Italy.
Kolosimo, Genna and the New Italian Epic