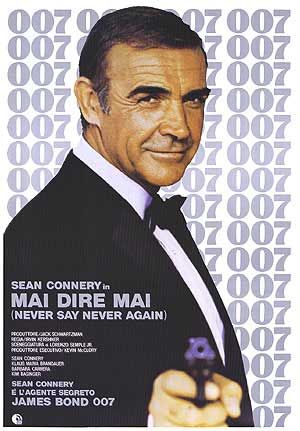 [This is from Giap #1, 10th Series, 12 May 2009.]
Never again.
These were Sean Connery's words after the last take of Diamonds Are Forever (1971), the seventh film in the 007 saga. He was 40, incipiently bald, and trying to broaden the horizons of his artistic career by getting rid of James Bond, who had now become an awkward alter ego.
Clearly, however, it's not so easy to leave your origins behind, or rather, it is difficult to resist the temptation to go back again and settle your scores, in order to look at yourself in perspective.
So, twelve years later, in 1983, Connery put back on the clothes of the antonomastic secret agent. He was 53 and had an opportunity to reinterpret the cult role in an older but still attractive version, and to do so through a remake of Thunderball. Therefore,  the return was twofold: Connery was Bond again, and the protagonist of a story he had already interpreted. It's easy to understand why the producers and the director decided to ironically name the film Never Say Never Again.
The story starts from the need to get 007 back to form. In fact, some MI6 executive cadres believe that Bond is too old to continue being an agent. Obviously, the whole film is a rebuttal of such belief, as well as an allegorical tale on how to overcome middle-age crisis.
Now, perhaps some of you have already seen pages like this one. Or this one. Or this one. Someone else will have noticed that, over the past year, our newsletters were disseminated with small clues.
Now it's time to say it loud and clear: yes, we're writing a novel that takes place in Q's world and historical continuum. We have almost finished it. It will be published [in Italy] in Autumn 2009. There is no definitive title yet, those you just read on those webpages are only working titles.
Now, this should explain many things: our delays in responding to demanding e-mail inquiries, the difficulty to edit a new issue of Nandropausa [our webzine of literary reviews, N.T.], the irregular frequency in sending out Giap, the impossibility to accept most invitations to public events etc.
Over the years, we have repeatedly stated that we would never write a sequel to Q. And, strictly speaking, it should be pointed out that this is not exactly a sequel. However, it is pointless to quibble: we have felt a new need, initiated a rethinking, and finally changed our mind. In our case, middle-age crisis is not a factor (not yet), and we aren't remaking an old work either.  But the years have passed for us too – ten years – and it is known that the band recently experienced a critical period, a very hard time which ended exactly one year ago when Luca (Wu Ming 3) resigned from the collective. We felt the need to trace back the point of origins of our adventure, and go back to the crime scene. We availed ourselves of Q's tenth anniversary, and decided to celebrate it with both a self-critique (see the text appeared in Giap's last issue) [It's the introductory essay to Thomas Müntzer's sermons, to be published by Verso, N.T.] and a new novel. We've been working like mules, at very close ranks. Much of what you read in the last year, e.g. WM4′s reflections on the hero figure, our notes on the new epic etc. were also study materials for this book.
Now we're on the last roller coaster descent, the part of the novel that takes us to the showdown and then to the epilogue.
We can't foresee whether the result will satisfy or displease the nostalgics, among which we don't include ourselves. However, we are certain that this book will be a surprise, because it's different from everything we've written so far.
After this accomplisment, we'll go back to the Atlantic Triptych,  to the world we started to explore with Manituana and American Parmigiano [A short story, as yet untranslated into English, N.T.], in the manner and time that we'll decide together.