N.B. UPDATES BELOW, IN THE COMMENT SECTION
[English translation of the "call to arms" we issued yesterday. We asked readers to fight back, and fighting they are! All the suggestions we gave at the end of this article are being enthusiastically put into practice, improved and shared by multitudes of people who are horrified by what is taking place in the Venice area. Publishers are making statements and releasing communiqués, the national media are starting to cover the affair, the National Association of Librarians (AIB) has strongly condemned the proposal and invited readers to counter any attempt at censoring and banning books. However, this isn't enough yet. We need people abroad to be aware of what's going on, there's a stench of nazi book burnings in Italy, and the case of fugitive "ex-terrorist" Cesare Battisti (now in Brazil) is nothing more than an excuse for repression. The period of a regime's decline may be very long, and it's the most dangerous period, as the lackeys get more and more desperate and resort to all kinds of senseless acts in order to keep their  grip on society. Thanks to Gregorio Magini of Scrittura Industriale Collettiva for translating our piece, we really wouldn't have had time to do it! In the next few hours we'll provide translations in French, Spanish and Catalan. We badly need a Portuguese version. French-speaking readers can already read Serge Quadruppani's article on Rue 89.]

.
The best words, given the circumstances, were found by our colleague Serge Quadruppani. Here they are, translated from French:
"Fascistoid folly has the power to struck us dumb: the moronic grossness of some statements can leave us speechless. This thing is so stupid that one is tempted to just shrug it off and think about something else. But this grossness and this folly have very practical effects. If we allow the spreading of the mere idea that official blacklists can be written (not to speak about the real practice) to ban people who don't yield to the dictatorship of sadness, to ban whoever refuses to accept the dominant view about this or that event of the past, then we capitulate to a conception of society closer to Ben Ali's Tunisia than to the one dreamt in Europe by the Enlightenment and the Resistance. Luckily, recent history shows that, on balance, victory is not always assured for big and small Ben Alis."
Preliminary warning: the Battisti case here is just a pretext. If they didn't have that, they would find another. For this reason, in this article we will not talk about the specifics of that affair. Those who know only the official version repeated to nausea by media and politicians, can find alternative information on Carmilla [1]. Those who want to discuss about it will have to do it elsewhere (the web is full of blogs and forum boards). Our position is sufficiently well known, as we've been writing about, carefully choosing every word, trying to keep a good balance [2]. But now the matter is entirely different, as understood by the colleague Carlo Lucarelli, who sent us this message:
«On the "Battisti case" – both the man and the affair – we have different positions, but what they're trying to do with this proscription list is really a dirty trick, an act of censorship of dissent. I didn't sign the petition in favor of Battisti but I am willing to back any reasonable initiative against this squalid operation worthy of a stupid dictatorship.»
And now the facts:
The Assessor for Culture of the province of Venice, a guy called Speranzon – a former activist of the MSI [the old neo-fascist party, active from 1946 to 1994] and now a member of Berlusconi's party – approved a proposal from a party colleague and will order Venetian libraries to:
1) Remove from shelves all the books written by any author who signed a 2004 petition asking for Cesare Battisti's release from jail;
2) Abstain from organizing events featuring such writers (they must be declared "undesirable persons", he says).
Any librarian who will not accept this diktat "will be held responsible" of his behavior. Is this a hint about fund freezing, withdrawal of patronage, mobbing, hostile media campaigning?
The proposal was lauded by the COISP, a policemen union. The poor librarian will think twice, before opposing local authorities and the police.
A clique of "honest democratic citizens" is already trying to extend the thing to the whole Veneto, and the initiative is likely to be emulated beyond regional borders.
The following statements by Speranzon can be read on the newspaper "Il Gazzettino" [3]:
«I will write to the Assessors for Culture of the Municipalities of the Venetian area, seeing that these persons are declared undesirable and, since local libraries are integrated within a provincial system, I will ask them to remove the books from the shelves […] I will ask not to promote book presentations by these authors: every Municipality can act freely, but it will be held responsible. Moreover, as a Venice city councilman, I will forward a motion so that Venice sets an example first […] We will write to region assessors Marino Zorzato e Elena Donazzan, asking them to extend the initiative to the whole Veneto.»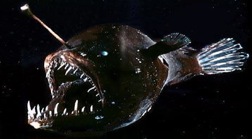 Now, the mere fact that anyone could conceive a thing like this shows that the sinking of Italy is reaching new, nauseating depths. We are now drilling the bottom of the Mariana Trench, surrounded by blind and deformed fishes, in search of the darkest darkness that can be found in the universe.
What are we going to do? Dwell at the bottom of the pit with these gloomy, wicked deep-sea inhabitants, or resurface?
The sun is up there, for those who want to see it again.
Many of us are in the proscription list: we, Valerio Evangelisti, Massimo Carlotto, Tiziano Scarpa, Nanni Balestrini, Daniel Pennac, Giuseppe Genna, Giorgio Agamben, Girolamo De Michele, Vauro, Lello Voce, Pino Cacucci, Christian Raimo, Sandrone Dazieri, Loredana Lipperini, Marco Philopat, Gianfranco Manfredi, Laura Grimaldi, Antonio Moresco, Carla Benedetti, Stefano Tassinari and many others.
They would almost have to leave the shelves empty.
And maybe, this is their dream.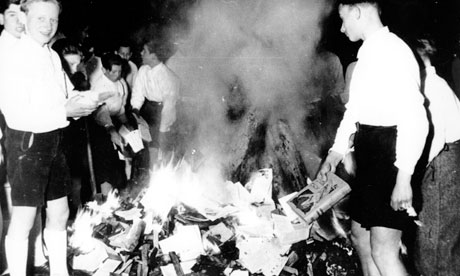 Quadruppani is right: we can't react with a shrug, say that "it's only taunting", suggest indifference as a mean to "avoid publicity for certain people". Sometimes that is the right thing to do, but not always.
Of course, this is also taunting , but it's mostly something else:
1) It's a threat against an entire category of workers (librarians). They should accept an authoritarian and unconstitutional ultimatum, or else pay dearly.
2) It's an act aimed at isolating and censoring writers and artists as "moral accomplices" to terrorism. An act by an administrator, a person of authority, who appeals to the gut feelings of the "ordinary folks" by waving a scarecrow that diverts their attention from other problems. An act that wants to intimidate and "keep in line" those who produce public discourse.
As our colleague Tiziano Scarpa put it: «This puts in peril the citizenship of a writer, which lies in its language and its works.» [4]
We should all react against this rubbish, not just the writers that are directly involved or the librarians that are directly threatened.
- Citizens, readers, library goers should make themselves heard.
- Administrators, political organizations and associations in the Venice areashould make themselves heard.
- Whoever works in the media, or has a blog or you-name-it, should write about this.
- The National Association of Librarians should say something.
- Public administration unions should say something.
- Publishers should take action and file a lawsuit against an initiative that damages them economically and morally.
Protest mails to newspapers should be sent, fliers and open letters should be affixed to the bulletin boards of libraries and reading rooms.
- Articles should be shared and linked, like this one (we will post constant updates at the bottom [of the Italian original version, T.N.]) or any other text or video that informs about this guy, his liberticidal intentions and about possible initiatives by his imitators and cronies.
Some of the blacklisted authors, and some authors that aren't on the list, are discussing, coordinating, evaluating the best actions available, including lawsuits. But if they will move alone, the censorship will win. The threat is against everybody: writers, readers, and whoever loves multiplicity of points of view on any topic. If we underestimate the initiative because it's stupid, a precedent will be set. This initiative is all the more dangerous because it's stupid. As blogger Mazzetta acutely points out, they want to affirm a principle on the base of which it would be perfectly normal to
«apply a moral filter when selecting books, on the grounds of the behaviors of their authors, and their ideological and political adherence to the will of the governing majority.
As if tomorrow Berlusconi fell in disgrace, and someone proposed to banish from all Italian libraries the books written by whoever supported or defended him, as if literary works could and should be selected depending on the moral and political credential of the author.» [5]
UPDATES BELOW, IN THE COMMENT SECTION
.
NOTES