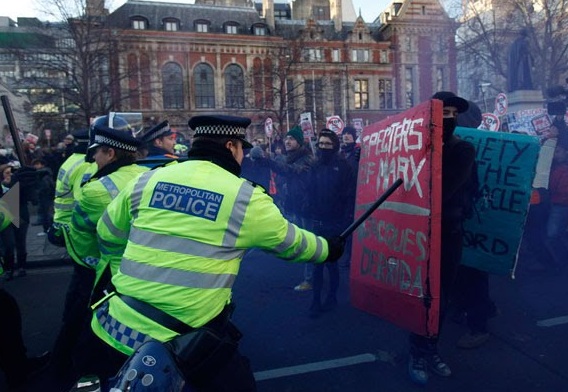 A smallish cluster of news before 2010 ends in flames.

The Book Bloc
Yes, yes. Don't ask no more. "Book Bloc" is our coinage. To the best of our knowledge, we were the first ones to come up with the pun, on 24 November, a few hours after students clashed with the police in Rome carrying padded shields styled as books. That practice – which took us by surprise – is the real invention, not the name. Anyway, both the name and the practice extended like fire in a prairie. The Book Bloc showed up all over Italy, and – most notably – in Parliament Square, London, on "Day X 3″ of Demo 2010, 9 December 2010. Here's an interesting meta-post entitled "A Book Bloc's Genealogy".
Momodou in Germany
For about 10 years, Germany has been nothing other than a black hole as far as our activities are concerned. We can't explain what happened. Q was translated into German and published by Piper Verlag in 2000, and we know it went well: it was reprinted in paperback, it's still in print to this day and reviews on Amazon.de are nearly all positive. You would think it was a good start, wouldn't ya? Only, it wasn't. Not at all. No hint of interest from any German publisher after Q's publication. No contact, no letter, nothing. 54, Manituana, New Thing and other novels were successfully published in several countries, but not in Germany. Out of all our books, Manituana had the best critical international reception, but German readers never heard of it. What a baffling thing.
Only one of the things we wrote managed to land on German soil.
In 2008 Einaudi Editore published a short story collection entitled Crimini Italiani [Italian Crimes], edited by our colleague Giancarlo De Cataldo. The book included Momodou, a story we wrote taking inspiration from a murder case happened in Southern Italy in 2003. Two cops were charged with killing an African migrant with mental problems. Momodou describes what happens immediately before and after the murder, and then goes back in time, depicting pivotal moments in the childhoods of all the main characters.
Now Crimini italiani (and therefore Momodou) is out in Germany, published by Bastei Lübbe GmbH & Co.KG with the title Denn dein ist das Böse: Italien-Krimis [For Thine is the Evil: Italian Crimes]. Actually, this is all we know. We haven't seen reviews, nor we have copies of the book. We don't know anything about the translation. We only know that the book exists. Are German readers aware that the guys who wrote Momodou under the name "Wu Ming" are the same authors who wrote Q under the name "Luther Blissett"? We can't possibly say.
La salvación de Eurídice
Some brave soul took the uneasy task to translate into Spanish one of the most ambitious essays ever to come from our laboratory, ie La salvezza di Euridice [Eurydice's Salvation] by Wu Ming 2, the longest text included in our 2008 book New Italian Epic (the English Wikipedia entry is a bit outdated but still useful). The Spanish text is here.
We're on Goodreads
Most of the book reviews we wrote from 2000 to 2010 (118 out of 149) are now on Goodreads. We exported them from our library on Anobii. In the past few years, Anobii has been the first choice among Italian book lovers, the most popular social network of that kind in Italy, but now it's been malfunctioning for months, it's painfully slow, and we decided to confer "double citizenship" to our reviews. Of course, they are in Italian.