[After All These Years, the Mutual Acknowledgement. An Interview with Luther and a letter from us.]
From the daily newspaper 'L'Unità', January 3 2009.
LUTHER BLISSETT: FROM FOOTBALL PLAYER TO SYMBOL OF A LITERARY PHENOMENON
The English striker arrived in Italy in '83 to revive the fortunes of an ailing AC Milan. But the honeymoon didn't last long. Luther disappeared, to be reborn as a collective pen name.
MALCOM PAGANI
London envoy
In Milan they remember his lack of grace, his awkward movements, the dreams that evaporated quickly. He had arrived amid fanfare and hope in the summer of 1983: a transfer market coup in a pre-Berlusconi Milan; the forward who'd scored over a hundred goals in England; the man who was going to fix every problem. Things went differently. A mutual lack of understanding lead into a dead end and an ignominious finale. Whenever he got the ball the catcalls that rang out from the stands become a cacophony – the constant soundtrack of his single Italian season. He departed amid insults, taking home a measly five goals in thirty games. The experience in the Lombard capital shocked him. His talent disappeared and with it his place in the England squad, money and fame. The derision became international. "Luther, miss it!," they sang. He didn't bounce back, he obeyed and disappeared into the lower leagues before being reborn in a new guise long after his career was over. A symbol of the ephemeral. The cultural underground, the open work, the one, the no-one and the hundred thousand concealing themselves behind one of the most interesting cultural projects of the last twenty years, took loan of his name. Luther Blissett, a project of deconstruction. It took aim at the media, the vicious circle of information and the system's weak points. In an avalanche of pranks and fake news items elevated into scoops, it became a short circuit, hitting its target and flooring more than a few experts. Luther Blissett does actually exist. Like Fantomas, he lives – in those London suburbs where the multiform city becomes a big, ordered town. It's a monotonous place of two storey terraced houses with yards, and an underground that runs nearby. The multiple identity will be fifty in February. He has two children, a wife of twenty five years and a peaceful second generation Jamaican immigrant face.
His body is not far the state it was in when he earned his living as a professional. His smile is full, he has the odd grey hair and wears a thick jumper. He appears from around a corner and waves, then motions towards an anonymous bar where he orders quickly and starts to talk. It's a an unstoppable monologue. "Everyone can be Luther Blissett, all they have to do is want to. That's what they said, right? The first time I heard about this thing, I didn't want to believe it. To think that someone, a group or a single person, could take on my name seemed ridiculous. I've never wanted to be anyone other than myself in my life. Then I reflected on it and I was happy. It was like leaving a sign of my passage, a fingerprint, a stone left behind on a street." He's read 'Q', the tome translated in more than ten languages, the international success that preceded the 'suicide' of the literary adventure. The success of others hasn't left him bitter. "How do you ask for copyright to people who've made the destruction of that very concept one of their principle beliefs. In England, the legislation in this area is different to yours but you Italians are strange people. You've got an idea a minute. You have creativity and ingenuity – it's difficult to bear grudges towards you." He devours a dubious looking omelet, gulps his beer and continues, "I was born in Jamaica, in Falmouth but my relatives came to England to work. Finding money for the family had become a necessity and at the beginning of 1963 London offered amazing opportunities. We departed like we were heading off to Russia. Layer upon layer of scarves and hats. The arrival was a shock. Try and imagine the Caribbean. Sun, heat, sea. We found ourselves in the cold, under a hostile sky, having to start from scratch. I saw the mounds of snow and I asked dad, 'What's that?' I'd never seen it. Then slowly I got used to things. I played on the street, I didn't know anything about football and less still about the English tradition. In two years I filled in the gaps. Initially I played as a left full back. The reason? No one else wanted to play there. It's the same destiny of goalkeepers. Then at 14 I moved to the forward line." It was intuition. In eight seasons at Watford he scored dozens of goals, he was called up to the national team, he scored three goals on his first outing against Luxembourg, he missed winning the championship by a hair's breadth in '82 and then he caught the plane to Milan, to follow the unexpected turn of events.
Luther doesn't seek forgiveness for his Italian failure. "If only I ended up in another Milan, everything would have been different." He semi-prononces the name of Sacchi and regrets never meeting the glamour football prophet of the late 80s. "I would've liked to be coached by him, instead I had Ilario Castagner. No one spoke English on the team apart from Baresi, the guy who I remember most fondly still today. I found myself in an unnerving isolation. I didn't have a strategist, someone who knew how to develop a skerrick of tactic. Whether we faced the top of the league or the bottom placed, we always played the match in the same way. I soon got tired and in the spring of 1984, I asked to be released. Money is important but the secret, the formula for getting up that hill that all of us of us must climb, is not to get sad. In Milan that was happening and I reacted. I wasn't a bad player, on the contrary, but in Italy I didn't express myself to more than 20% of my ability. It was a strange environment, there were stupid stories circulating, they said that Farina, the president, had been mistaken." This was one of the thousand legends about him.
The mustached Giussy Farina wanted John Barnes but supposedly ended up contracting the wrong player. When he realised that the deal had been done in London, Farina quipped, "Luther was recommended to me by a London gardener." Such judgments didn't help the task at hand. Blissett gives his own back. "Farina was really a strange person. I'll never forget our first meeting. He called me to his villa in Vicenza, a three storey mansion just outside the city." There were paintings, ceramics, life size sculptures. "He descended a spiral staircase, dressed like a gangster. He was chest out, wearing a loud pin stripe, polished. It was like I'd turned up in a Scorsese film. At one point I thought, 'now he'll pull out his gun.'" Today Blissett has changed sports. "I tried to be a coach but the doors of the most important clubs didn't open." So he ended up in the last division as manager of Chesham United. It was an abyss from which he emerged in April 2007. Speed has always been a passion, so Luther left his boots and whistle, let the air out of his ball and transformed himself into a race car driver. With his team, 48 Motorsport, he entertains a stupendous dream. "I want to participate at Le Mans in 2010. I've met with some resistance but with the help of a group of friends, the project's more than just a dream. I need a lot of money but I don't lose hope. I know about team dynamics, pulling together, at the end of the day the conditions are the same as the social struggle. We're always fighting, after all." Luther stops, orders another lager, lets his regrets slide away. A fan arrives and has him sign an old jersey. He hugs him, kisses him, takes a photo or two. A memory of how it was, and how it will never be. Ever again.
[Translated by Jason Di Rosso]
***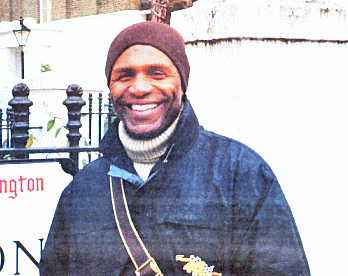 From the daily newspaper 'L'Unità', January 5 2009.
LUTHER'S BROCCO EPIC
Wu Ming comment the interview with former AC Milan footballer. In the 1990′s his name, for reasons that were never explained, was transformed into a collective pseudonym
We, the Wu Ming collective, have read the interview Malcom Pagani did with Luther Blissett, ex-football player, "unintentional instigator" of the movement that had so much cultural influence during the 1990′s. We've read it with admiration for the humanity and humour with which Pagani treated the subject, without ever being derisory.
We already held Luther in high esteem, we've been following his vicissitudes for many years, at a distance, we know about the things he's tried to make the best of.
In Italian there is a phrase, it's simple but with rich connotations: "una bella persona" [a beautiful person]. Which is different from saying "una brava persona" [a good person]. A long time ago, the adjective "bravo" meant bold, courageous, but now it's lost that meaning. You are "bravo" when you do well what is expected from you: a student is "bravo" when she gets a good vote, a plumber is bravo when she repairs the fault. "Brava persona" refers to average goodness, to going along with no shocks. Mind you: we badly need more of them, le brave persone. However, "bella persona" has something more to it, there's a semantic swerve, a surplus of ethical judgment… and surprise. It is always a little amazing when you meet a "bella persona", even when you've known her for years.
Sports journalist Paolo Piras says that in sports the true epic is that of "brocchi", unlucky or bad players. A "brocco" is the protagonist of less stereotypical and more interesting stories, and sometimes remains in our memories longer than a champion does. Think of the affectionate reproaches Egidio Calloni still gets, and he retired in 1982.
Blissett's ill-fated season in that patchy AC Milan team fixed him in our mind as a "brocco", but at home he was far from being bad. In Italy's parochial football, a world that had just re-opened the borders to foreign players, Blissett felt lost. He scored only a few goals, often missed chances, was insulted and sneered at, but he chose a line of conduct which to this day makes him an alien: no complaints. He returned to Albion without glory, but left a trace in some people's minds, an echo of sim-pathy (in Greek: "suffering together"), an awareness that the flop was not all his fault. It was 1984.
Ten years later, for reasons that were never explained (though perhaps in order to avenge him), Luther's name was borrowed by a congregation of strange people and converted into collective pseudonym. It went on for five years.
In the meantime he had retired and become a coach. How did he like that? Initial reactions were of concern, but then he got intrigued, until came the apotheosis of 2004, when he appeared on British TV in an episode of the Fantasy Football show. He not only explained what the Blissett Project had been, but also claimed to be part of the movement. He read (in Italian) lines from the LBP book Totò, Peppino e la guerra psichica. If you want to watch it, it's on YouTube.
Think of Italian players, think of the ignorant conformism they show in all their words and their behavior, think of them and be happy that sometimes you bump into another kind of player, not necessarily a crazy saint like Maradona, but a person like Blissett, or [AS Roma's] Damiano Tommasi, who plays in the premier league for the minimum union wage.
A self-made man mistreated by fate, Luther never yielded to resentment, and now he's started over with another love: races.
We already knew that Blissett was una bella persona. Pagani has the merit of having shown it to everyone else.