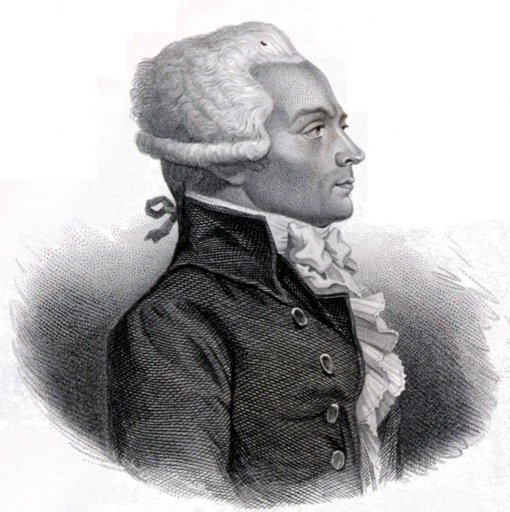 1775. Maximilien de Robespierre is a 17-year-old student who has been chosen to make a welcoming speech before the King. Louis XVI is going to visit the college where the young man lives. All lined up, students and tutors wait for Louis and Marie Antoinette in a pouring rain, and the waiting lasts for hours. At last the coach arrives, but the royal couple do not exit for fear of getting wet.
If one should study Robespierre's life to make him a character in a biopic or historical novel, this would be a good starting point. The camera closes up on the adolescent's eyes, which are still and expressionless. Now the camera backs off slowly, frames the young man's entire figure and then the whole group, until young Robespierre is just one of the many people standing in the cold, damp air.
Another topical scene could be the moment of his arrest. On the morning of July 28, 1794 the National Guards burst into the Hotel de Ville and arrest Saint-Just. Robespierre's brother, Augustin, is thrown out a window. Someone runs to his aid, but he's already dying in the dusty street. What about Maximilien? Some say he put up resistance, but the policeman Charles-Andre Merda smashed his jaw with a pistol shot. Others say that he attempted suicide. Yet others say that the shot was accidentally fired by Robespierre, while trying to escape.
The screenwriter or novelist would have to choose.
And once he made the choice, what would he have in hand? A character for a film or novel.
There is a French website that allows you to speak with the dead. It is called Dialogus2.org. People ask questions to the characters of history and receive answers that have some degree of stylistic and psychological plausibility. It's a good idea, there are interesting examples and remarkable answers.
Among the most popular in a rich constellation of characters is precisely him, the Incorruptible, who is asked about various issues and always gives philologically and stylistically impeccable answers. Our contemporaries seem to have a lot to ask Maximilien de Robespierre. Questions about his love life or his diet. Questions concerning important moments of the Revolution. The most notable question concerns his alleged suicide attempt shortly before his arrest.
The questions that our contemporaries ask Robespierre almost always get knee-jerk answers. It seems that the conversation is avoiding the most relevant issue, as if our age had actually nothing to ask him. Drowning in a flood of words, Robespierre, with all his oratorical skills, is forced to remain silent.
Among our contemporaries, we would not stand out by the depth of our question. We would like to ask the Incorruptible about that day when he was seventeen years old. What were his thoughts while standing in front of the college in that pouring rain? As if the angle chosen by our imaginary director could not be enough. As if we needed words to confirm what instinct and reason suggest.
Maximilien François Marie Isidore de Robespierre. He was born at two o'clock in the north of France. He grew up to become a lawyer. He had a brother who was also a revolutionary and came to an equally bad end. Robespierre the orator. The inflexible man. The pacifist who was against exporting revolution. The politician who did not include women in such philosophical categories as «homme» and «citoyen». The instigator of uncontrollable historical demons. Finally, since there is poetic justice in history in the end, a man overwhelmed by the same dynamics he had encouraged.
This is a character completely out of fashion. Under that wig, it is hard to recognize a man. There is only the distorted echo of an idea. There is only a name written in history books, those books who usually tell us that the issues of human rights, civil liberties and so on could be addressed and resolved in a less brutal way, with less waste, less violence, less fanfare, less rhetoric. The bourgeoisie would have won anyway, why such havoc?
Thus, 1789 without 1793. It is a very contemporary trend: coke without caffeine, cigarettes you can smoke on a flight because they do not smoke (you don't even have to light them up), non-fat yogurt, sweetness without sugar, feelings without bodies, seemingly warless war (as it doesn't involve us personally), revolutions without a revolution. «Sweetening» and «lightness» as the most important things. According to the Slovenian philosopher Slavoj Žižek, this is a constitutive feature of our present, or rather, of the "taste" that shapes our present. «Taste» is nothing other than a basic ideological predisposition. The taste of Robespierre's contemporaries isn't less alien to us than garum, a sauce made with rotten fish that was a staple of ancient Roman cuisine.
The French revolutionaries liked the ancient Rome, everybody knows it.
The point is that Robespierre is at the start of all modern incarnations of what Alain Badiou calls the "eternal Idea": the prospect of a radical, egalitarian emancipation for everyone. Everyone without exceptions. This taste for equality has run through the past century, and it is exactly what the world which we are part of fought against, by all means and without quarter, until victory. Victory was the entry into the historical phase dragging on before our eyes. These times of ours muddle up all distinctions between assaulters and assaulted, victims and tormentors, by assigning them the same reasons. These times of ours are not at ease with certain ideas and the persons that embody them. To us, overwhelmed as we are by the eternal present of decaffeinated, non-fat, nicotine-free goods with minimal side effects, what Robespierre represents is intolerable.
If the heavens opened up right now and, as in Vittorio De Sica's film featuring Paolo Stoppa, Vittorio Gassman, Fernandel and – inevitably – Alberto Sordi, a voice announced the Last Judgement, then there would be terror. And yet, most likely many of us would go on, as in the film, doing exactly what they've been doing, like the character played by Sordi, who continues to sell children to Americans. Many would mistake terror for fear, ie for our daily habits, our ordinary uncertainties, and call for the government's intervention against the turmoil the Judgment would cause in the streets. When the idea of Justice appears in history like lightning, there is no policy that can prevent terror, and Robespierre knew it. On the contrary, when justice ceases to be an issue and is mistaken for the morality of rulers, that is a time for policies of fear.
***
The problem with Terror is that revolutionaries, in their dreams, always see themselves spreading it. They never envision themselves suffering it. And the more you see yourself in that role, the higher the chances you will find yourself on the wrong side of the rifle.
And yet Terror (any Terror) should be understood, re-estimated and turned into a point of strength, not of weakness. We must take responsibility for it, not resort to such easy alibis as "We weren't born yet." In a sense, we were born already, for our adhesion to an idea of [equality] [Revolution] [Communism] [etc.] is in a sense retroactive. We have chosen our past. We are heirs of the whole radical and revolutionary tradition, including the paths resulted in horrors and degeneration. We cannot shake off that burden as if nothing had happened, we have to deal with it without removing, without renouncing, without regretting, without repeating.
The far left and the radical movements are chock full of people who keep saying: "I've got nothing to do with Stalinism" "I've got nothing to do with that shit" "That isn't my family album", "I come from another tradition" (eg "Left Communism" in the fashion of Amadeo Bordiga, all strands of libertarian communism, anarchism, the Situationists etc.). This is a way of escaping responsibility and not admitting that a bit of Stalin is in everyone of us, a bit of Nechayev is in everyone of us, and a bit of Pol Pot, a bit of the Red Brigades, a bit of anarcho-insurrectionist foolishness is in everyone of us. Anyone of us can slip into one of those devices, get caught in those apparatuses of subjectification. We'll avoid this only if we do not remove that part of us. Precisely: we've got to understand Terror in ourselves.
Beyond some fleeting and superficial similarities, this attitude has nothing to do with the revisionism of recent decades. The revisionist discourse is: «We shouldn't really celebrate 1789 because it led to 1793. We shouldn't celebrate 1917 because it led to the gulag. We shouldn't celebrate the Resistance because in the aftermath of the war there were abuses», and so on and so forth.
On the contrary, "understanding Terror" means that you cannot properly celebrate 1789 without asking questions to 1793. Understanding Terror is the only meaningful way (not conciliatory, not sweetened) to celebrate the Revolution.
To those who act innocent and claim not to be in the group photo we should say:
"Dear sirs and ladies, there is only one family album of revolutionaries."
There is only one, albeit uneven. Some pages look pretty, some others are patched and torn. We gave a picturesque depiction of the album in Spectres of Muntzer:
«If we listen attentively to what the 16th century has to say, we'll encounter anarchists, proto-hippies, utopian socialists, hardcore leninists, mystical maoists, mad stalinists, the Red Brigades, the Angry Brigade, the Weathermen, Emmett Grogan, Friar Tuck, punk rock, Pol Pot and Comrade Gonzalo (of Peru's Shining Path guerrilla movement). A whole army of spectres and metaphors.»
Does that mean that everything is the same in the revolutionary tradition? No. It means that nothing that belongs to that tradition is alien to us. With all the problems this entails.
***
Terror is always red. It is not related to fascism in any way. It is understandable why left-communist and anarchist rhetoric has described Stalinists as "red fascists", but it is a mistake. Terror has nothing to do with such human groups as tribes, particularistic communities, ritualistic-initiatory-racial aggregations fighting each other for supremacy. It regards those subjects who, by joining a process of truth, immediately access the dimension of "universality" and come to think they represent the whole humankind.
Terror is a typical dynamic of revolutionary events in which the "eternal Idea" of radical-egalitarian-universal emancipation appears as the driving force of history. We should never confuse Terror with the harsh punishment the winners inflict on the losers, because Terror is always "self-inflicted". Revolutionaries kill revolutionaries in the name of revolution. What's a stake here is not control, what's a stake is the truth.
The Jacobins start and foster a tendency that overwhelms them. The least safe place to stay in a communist regime (of those that existed in actuality) is in power. Among the things Mikhail Bakthin had in mind when he devised the concept of "Carnivalesque", the great Stalinist purges are the most counter-intuitive to grasp, but only if one doesn't understand what Terror is. Terror is a feast. A feast whose participants overturn the world's hierarchies, even the most newly formed ones. Indeed, especially the most newly formed ones.
Even in the fascist regimes whose alleged origins are in a so-called "revolution", the dynamics of the exercise of violence are very different. The carnivalesque is absent and violence is mainly inflicted on the defeated enemy (the left, the working class, minorities etc.). Fascism is just the obscene double of the Law finally made visible. This key distinction has gotten murky because of such gross concepts as "Totalitarianism", which have impaired our ability to tell a Gestapo mass murderer from the Partisan who blew his ass away.
Terror is never an outcome of fascism. It takes place only if you have thought the unthinkable and attempted the impractical.
If only for being proof that we dared the undarable, Terror should always be with us. We need to quit being apologetic about it.
***
AN APPENDIX
In his book Echoes of the Marseillaise, Eric J. Hobsbawm explains that the first two generations of historians to examine the events of the Revolution (even conservative and liberal historians) had no difficulty in considering the Revolution as a whole:
«… Although at every phase of the revolutionary process there were some who decided that matters had gone far enough and would have preferred to call a halt, the Restoration liberal historians, unlike modern Liberals and some revisionist scholars, having lived through a great revolution at first hand, knew that such events cannot be switched on and off like television programmes. The metaphor of "skidding off course"… implies that control of the vehicle is possible; but getting out of control is an integral part of great revolutions as of great twentieth-century wars or other comparable phenomena [...] the Restoration liberals, however appalled by much of what had happened in their country, did not reject the revolution and were not apologetic about it [...] Whatever the excesses of the Revolution, would not the alternative  – no revolution – have been worse? As François-Xavier Joseph Droz, who had lived through the Terror as a young man, put it: "Let us not imitate those ancients who, terrified by the burning of Phaeton's chariot, asked the gods to leave them in permanent darkness".»
At a certain point, Hobsbawm even quotes François Guizot (who Marx & Engels listed among those frightened by the spectre of communism in the famous opening lines of the Communist Manifesto). Guizot wrote:
«I will not disown anything of the Revolution. I do not claim to discharge it of anything. I seize it as a whole, its truths and its errors, its virtues and its excesses, its triumphs and its reverses … You will tell me that it violated justice, oppressed liberty. I will agree with you. I will even join in examining the causes of these lamentable digressions. I will go further. I will grant you that the germ of these crimes was present in the very cradle of the Revolution.»
Hobsbawm again:
«Indeed, the Revolution was necessarily both 1789 and 1793-94, both moderate and Jacobin. Every attempt to separate one from the other, to accept Mirabeau but reject Robespierre, is unrealistic.»