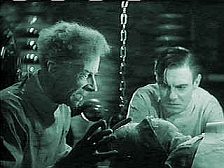 3. Frankenstein in Frankenhausen (2001-09)
'How long have you been on the run?'
[...] 'I told you, ever since priests and prophets claimed a hold of my life. I fought with Müntzer and the peasants against the princes. Anabaptist in the madness that was Münster. Purveyor of divine justice with Jan Batenburg. Companion of Eloi Pruystinck among the free spirits of Antwerp. A different faith each time, always the same enemies, one defeat.'
- Luther Blissett, Q
Thomas Müntzer spoke to us, but we couldn't understand his words. It wasn't a blessing, but a warning.
It is impossible to disclaim the responsibility the Wu Ming collective had, at least in Italy. We were among the most zealous in urging people to go to Genoa, and helped to pull the movement into the ambush. After the bloodbath, it took quite a while – and a lot of reflection on our part – to understand our own (specific) errors in the context of the (general) errors made by the movement.
We had underestimated the enemy, and overestimated ourselves. Clearly, something had gone wrong with the practice of "mythopoesis" or "myth-making from the bottom up", which was – and still is – at the core of our philosophy.
By "myth" we never meant a false story, i.e. the most banal and superficial use of the term. We always used the word for a narrative with a great symbolic value, a narrative whose meaning is understood and shared in the community (e.g. a social movement) whose members tell it one another. We've always been interested in stories that create bonds between human beings. Communities keep sharing such stories and, as they share them, they (hopefully) keep them alive and inspiring, ongoing narration makes them evolve, because what happens in the present changes the way we recollect the past. As a result, those tales are modified according to the context and acquire new symbolic/metaphorical meanings. Myths provide us with examples to follow or reject, give us a sense of continuity or discontinuity with the past, and allow us to imagine a future. We couldn't live without them, it's the way our mind works, our brain is "wired" to think through narratives, metaphors and allegories.
At a certain point, a metaphor may suffer sclerosis and become less and less useful, until it gets void of all meaning, a disgusting cliché, an obstacle to the growth of inspiring stories. When this happens, people have to veer off, looking for other words and images.
Revolutionary and progressive movements have always found their own metaphors and narrated their myths. Most of the times these myths survived their being useful and became alienating. Rigor mortis set in, language became wooden, metaphors ended up enslaving the people instead of setting them free. The following generation often reacted by negating the past and developing iconoclastic attitudes. The vanguard of each generation of radicals described the myths they inherited as nothing more than false stories. Some demanded that the radical discourse be "de-mythologised", be it in the name of Reason, "political correctness", nihilism or even plain stupidity (as in the 'myths-are-intrinsically-fascist' argument).
No-one can erase mythological thought from human communication, because it's embedded in the circuitry of our brains. Cognitive scientists and linguists such as George Lakoff are proving that beyond doubt. We think through metaphors and narratives.
Every iconoclasm eventually generates a new iconophilia, against which new iconoclasts will rage. The cycle will be endless if we don't understand the way these narratives work. The trouble with myths is not their intrinsic falsehood, truth… or truthiness. The trouble with myths is that they sclerotise easily if we take them for granted. The flow of tales must be kept fresh and lively, we have to tell stories by ever changing means, angles and points of view, give our tales constant exercise so they don't harden and darken and clog our brains.
This, of course, is an extremely hard task, for several reasons.
First of all, it's too easy to underestimate the dangers of working with myths. One always runs the risk of playing Dr. Frankenstein or, even worse, Henry Ford. We can't create a myth at will, as though on an assembly line, or evoke it artificially in some closed laboratory. To be more exact: we could, but it would have unpleasant consequences.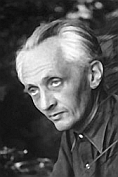 Expanding some observations by Karoly Kerenyi, the Italian mythologist Furio Jesi drew a sharp distinction between a "genuine" approach to myths and a forced evocation of myths for a specific (usually political) purpose. Think of Mussolini describing the 1937 invasion of Abyssinia as "the reappearance of the Empire on the fateful hills of Rome". Kerenyi and Jesi called the latter strategy "technification of myths".
Technified myth is always addressed to those Kerenyi called "the sleeping ones", i.e. people whose critical attitude is dormant, because the powerful images conveyed by the technifiers have overwhelmed their consciousness and invaded their subconscious. For example, we may "fall asleep" during the incredibly beautiful first half-hour of Leni Riefenstahl's Olympia (1938).
On the contrary, a "genuine" approach to myths requires staying awake and willing to listen. We have to ask questions and listen to what myths have to say, we have to study myths, go looking for them in their territories, with humbleness and respect, without trying to capture them and forcibly bring them to our world and our present. It is a pilgrimage, not a safari.
Technified myth is always "false consciousness", even when we think we're using it to a good purpose. In an essay entitled Literature and Myth, Jesi asked himself: 'Is it possible to induce the people to behave in a certain way – thanks to the power exerted by suitable evocations of myths – and then induce them to criticize the mythical motives of their behaviour?'. He answered himself: 'It seems practically impossible'.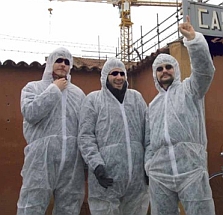 In the heyday of the global movement (from Autumn 1999 to Summer 2001), we tried to operate in the space between the adverb ("practically") and the adjective ("impossible"). We tried to use the adverb to break open the adjective. We deemed Jesi's answer too pessimistic. We thought that "opening the laboratory" and showing the people how we processed "mythologemes" – i.e. the basic conceptual units, the metaphoric "kernels" of mythological narratives – was enough to provide the people with the tools of criticism. "Correct distance" from a myth was our chimera: not too close lest we might fall into a stupor, not so far that we no longer feel its power. It was a difficult balance to keep,  and in fact we didn't keep it.
Because the problem is also: who is the artificer of mythopoesis, the evocator, the obstetrician? It should be up to a whole movement or community or social class to handle myths and keep them on the move. No particular group can appoint itself to that office. At the end of the day, we ended up being "officials" assigned to manipulate metaphors and evoke myths. Our role became a quasi-specialised one. An agit-prop cell. A combo of spin doctors. Sure, From the Multitudes of Europe… could make your nerves sing, it made you feel like going to Genoa right away, but that was not enough. We never looked for ways to "criticize the mythical motives of our behaviour". "Practically" never cracked "impossible".
At present, there is no alternative but continuing the work: we have to continue the exploration, prick up our ears and approach myths in a way that's not instrumental. We have to understand the nature of myths without wishing to reduce their complexity and test their aerodynamic properties in the wind tunnel of politics.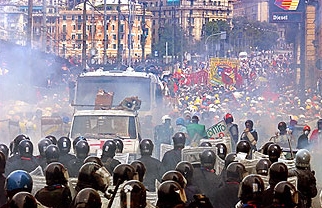 What happened in Genoa was not a "military" defeat: it was a cultural catastrophe. The tragedy was not being defeated in the street. The tragedy was being defeated in the street and as a cultural wave. After Genoa, the movement stopped being able to communicate in effective ways, and the media sucked all our blood.
20 July 2001. That friday afternoon, in that long street called Via Tolemaide, nobody wore white overalls. A few days before, we all decided to extend the practice of "padded civil disobedience" as widely as possible. Even such an open symbol as the overalls would stand in the way of that purpose. Ever more often, Tute bianche were being described as an organisation, a separate – albeit large – group, and the "Bibendum" tactic ran the risk of being associated exclusively with those activists. That's why we all decided not to wear the overall in Genoa. Thus, it was only as a reference to a shared practice that the marchers pouring out of the Carlini Stadium described themselves as "the desobedients".
Then the carabinieri murdered Carlo Giuliani, and all demonstrations disbanded because of overwhelming police brutality. Thousands of people had to fight their way back to the stadium, like the Warriors gang returning to Coney Island.
That night, we felt as pigeon-shooting targets. Everyone was scared, and yet we had to respond and take the streets again. At that point, our only hope was that as many people as possible come to Genoa to show their solidarity. The day after, 300,000 people turned up to save our sorry arses. They were not hardcore militants: hardcore militants were already in town. Those were ordinary people of progressive feelings, outraged by the carnage they'd seen on TV. We will always be grateful to that multitude, always, as long as we live. That saturday afternoon, we committed to never betray those people. Salvation laid in being open-minded, honest and comprehensible. Salvation laid in keeping away from sectarianism.
It was then that we instinctively started to work on a new mythologeme, one that would imply the criticism of the previous ones: Genoa as Frankenhausen.
A guy eavesdropping our conversation asked: – Who the fuck is this Frank Enhausen you keep talking about?


Less than two months after Genoa came 9/11. The situation in the country and the world got much tougher, and the metaphor of the "siege" turned upside down. In 2003 the Italian movement was already in a deep crisis. Not even mass mobilisation against the war on Irak could infuse new energy into its body. At last, it regressed to a marginal presence, a presence occupying the semantic space of traditional far-leftist discourse. The usual boring role played by boring rules. A bunch of "professional revolutionaries" took over what was left, made all kinds of mistakes and proved to be immensely inadequate. Fossilized sub-Leninist tactics and strategies re-surfaced. A lot of time and energy was dissipated in intra-group identity wars. Meetings became pathetic cock fights. The majority of sensitive, "unregimented" activists (especially women) got bored and quit. We were among those who quit.
In the meanwhile, a self-professed vanguard of the ex-tute bianche had embarked on new projects that we regarded as grotesque, projects whose description is clearly beyond the scope of this text. The collaboration between us and that network had lasted little more than a year. So passes a glory of this world.
Since then, we have devoted our time and effort to tightening the bolts of our literary project, writing new novels and essay and expanding our presence in culture and the cultural industry.
We didn't give up the struggle, far from it, but never again will we play Frankenstein with technified myths.
And we keep going, and Don Durito's army of animals keep going, and no defeat is definitive, and hearts are still beating.
4/4 – End.