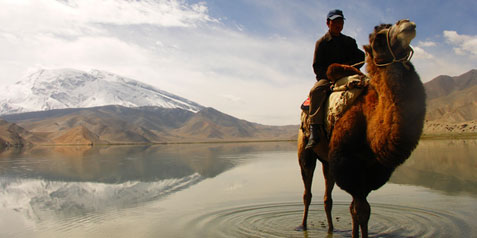 As the Grateful Dead would put it: "What a long strange trip it's been".
On January 1st, 2000, one day after Luther Blissett's "Seppuku", we founded the Wu Ming collective.
A few weeks later, this very website went on line. Ten years of uninterrupted presence on the web. Ten years of conversations, confrontations, communal moments. Thank you all for having made it possible.
With the exception of our comments on the Fluxus-like assault on Burlesquoni, in the last month of 2009 we kind of neglected this blog. We've been (and still are) very much involved in the promotion of our novel Altai, which has sold about 30,000 copies so far, and has generated a huge, rich, multifarious debate. The book tour comprises nearly 60 presentations in 50 cities all over the Paeninsula. We already did 14 of them. Film critic Woody Haut says that we're "indefatigable", we hope he's right.
In the meantime, we spotted some interesting things on the web.
For example, The Independent's Boyd Tonkin ranked Manituana among the best "general fiction" works published in the UK in 2009. Tonkin wrote that "the overthrow of American revolutionary myths in Manituana" reads as "a tale of our times", and added: "the Italian Wu Ming collective craft a splendidly surprising, Mohawk-centred view of white colonists' rebellion against the "Great English Father", George III."
In an interview we gave several years ago (BTW we were too influenced by "post-Operaismo" jargon and autonomo-marxist conceptual frames back then, you can see that in the first answer, but the rest of the interview is still good), we said that
We usually think of an historical period which seems fascinating to us, then we spend months watching microfilms, reading sources, doing research, writing down all kinds of stuff, then the brainstorm comes and it lasts several weeks. We have hallucinations, sort of. Historical research is like peyote to us. After we recover from all the shocks and flashes, we start to write.
In 2002 Nate, the guy running the "What in the hell…" weblog, was unable to grasp the metaphor. What in the hell were we talking about? In what way is researching history like taking peyote?
Eventually, after reading Manituana, Nate understood :-D