"Like a summer with a thousand julys" is a line from You Go To My Head, the famous jazz standard first performed by Billie Holiday in 1938. As many of you will remember, our novel Manituana was supposed to come out first in the UK (July) and then in the US (October). Well, it won't go that way. In order to do things in the best possible manner, Verso Books decided to postpone the British release, so the book will be published in both countries at once. We're sorry about that, we know you expected Manituana to be available in a few days.
Pretty soon we'll put more spin-offs and short stories on the website, so that Anglophone readers aren't left with no WM fiction to read until next autumn. Thanks for your patience.
BTW: we noticed an interesting thing in the Manituana page on Amazon.com. Although the book is yet to be published, someone out there already has a used copy… which you can buy for a thousand bucks. Look, we made a screenshot: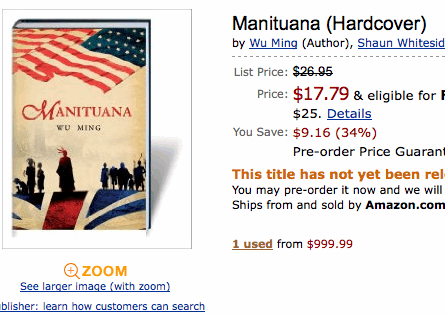 What are you waiting for? It's a great occasion.