About

Wu Ming

Website:
Wu Ming has written 112 articles so far, you can find them below.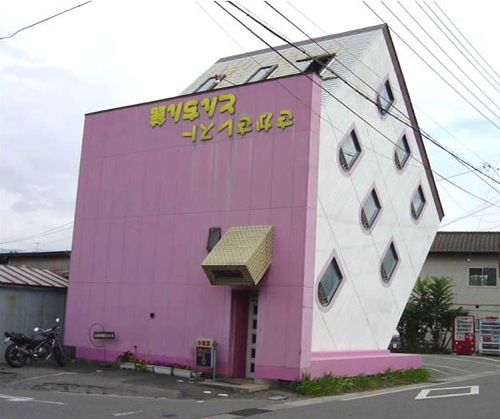 Q and Altai both acquired by Tokyio-based Sogensha Co., Ltd.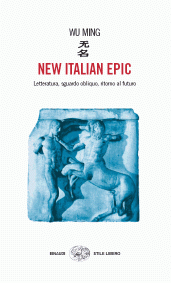 In April 2008 Wu Ming 1 – on behalf of the whole collective – published the so-called "memorandum" on the New Italian Epic, which since then has been rippling the surface of Italian culture. The debate is still hot, attacks on our vision are constantly delivered by powerful senior critics and windbags, but we also opened several breaches: since 2008, no discussion of the current state of Italian literature has been possible without references – either positive or negative – to what we wrote. They just couldn't ignore the "memorandum" (and the expanded version that was published as a book by Einaudi in 2009).
Not surprisingly, the first monography on the subject wasn't published in Italy but in the UK. It is entitled Overcoming Postmodernism: The Debate on New Italian Epic, and it's a special issue of the Journal of Romance Studies (Volume 10, Number 1, Spring 2010). We reproduce the Editor's introduction and the Notes on Contributors.

EDITOR'S INTRODUCTION
Claudia Boscolo

Aims and origin
The contributors of this special issue of Journal of Romance Studies all offer a critical view of a single text. They all engage with different novels as primary material, but their analysis is based on Italian author Wu Ming 1's essay New Italian Epic: Memorandum 1993-2008, the first version of which was published online in April 2008. Wu Ming is the name of a collective of Italian authors based in Bologna, formerly known as the Luther Blissett Project [1] The collective is currently formed by four members, known by a number from 1 to 5 (Wu Ming 1, Wu Ming 2, Wu Ming 4 and Wu Ming 5 – Wu Ming 3 left the group in 2008). New Italian Epic is commonly known as the 'Memorandum' [2]. It describes and provides a taxonomy for a corpus of Italian contemporary novels by various authors – including Wu Ming. (more…)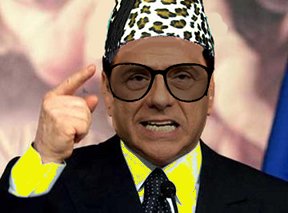 He died of prostate cancer. He died in exile in Morocco on September 7, 1997. His name was Mobutu Sese Seko Kuku Ngbendu Wa Zabanga – literally "Mobutu, the warrior who goes from victory to victory as no-one can stop him" – but when he was born in 1930, in what was then the Belgian Congo, he was simply Joseph-Désiré Mobutu. The Africanization of his name was part of the visionary strategy that made him famous, along with the distinctive leopard hats, the carved tribal stick and the monumental choreographies.
There is always something ridiculous and farcical in dictators. Their clothes, their mannerisms, even their faces. They are pop stars, or rather crooners, who entertain the public from a media stage, in order to hide the atrocities they commit in the wings. That's the reason why their style is very often over-the-top and excessive, and at the same time painstakingly constructed and cared for.
Mobutu, for example, was a bloodthirsty dictator, but he was also a key exponent and lover of a certain African glamour made of floral shirts, cloaks, and noteworthy events which attracted attention to him and the facade of Zaire, while obscuring the dictatorship's crimes. Think of the most famous boxing match in history, Ali vs. Foreman, 1974, recounted in Leon Gast's documentary When We Were Kings.
The king, of course, was Muhammad Ali, not that pathetic usurper Mobutu, who sought the light reflected by the giant to shine on the international stage. And yet, that clown had had a flash of genius. It was no ordinary thing to imagine such an event, the "Rumble in the Jungle", a clash between two black fighters in the heart of Africa. (more…)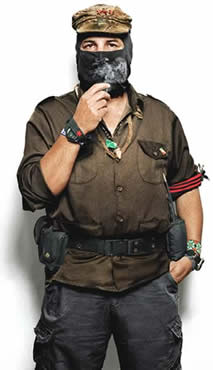 [This essay was written in the Summer of 2008, to be used as a preface to this collection of Thomas Müntzer's sermons. It is a bitter piece of self-criticism on our "mytho-poetic" politics during the 2000-01 period (roughly from the "Battle of Seattle" to the mayhem in Genoa).  It's been circulating widely in Italian and Spanish, but not in English, due to problems that delayed the publication of the book. Many people asked us for it. We decided to post it in four chunks on this blog. This won't harm the book, indeed, our long-time experience with anticipating stuff on the Internet tells us quite the opposite.]
***
«A few months before the summit we started to write epic texts such as From the Multitudes of Europe… (and many more), you know, it was like an edict and it went: "We are the peasants of the Jacquerie… We are the thirty-four thousand men that answered the call of Hans the Piper… We are the serfs, miners, fugitives, and deserters that joined Pugachev's Cossacks to overthrow the autocracy of Russia…" Then we pulled media stunts in order to create expectations for Genoa. An example: on a quiet springtime night, we put placards around the necks of the most visible statues in Bologna (guys like Garibaldi and other nineteenth-century national heroes), with messages encouraging all citizens to go to Genoa [...] We wanted to persuade as many people as possible to go to Genoa, and we ended up convincing as many people as possible to fall into a full-scale police ambush. Demonstrators were assaulted, beaten to a bloody pulp, arrested, even tortured. We didn't expect such mayhem. Nobody did. I regret we were so naïve and caught off-guard, although I think that was a crucial moment for the latest generation of activists. In a way, it was important to be there. That experience has created bonds between a transnational multitude of human beings [...] We'll see the consequences of that "being there" for a long time to come, on a grass roots, extended, long-tailed level.»
- Wu Ming interviewed by Robert P. Baird, Chicago Review #52:2/3/4, October 2006
0. A present from the monkeys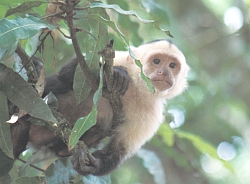 It happened one chilly night of March 2001.
It happened in Nurio, state of Michoacán, Mexico, where all the indigenous tribes of the country were gathered to demand an Indian Rights Act. It was the third meeting of the National Indian Congress, largely a creation of the Zapatistas, those media-savvy poetic warriors who had seemingly appeared out of nowhere – out of the depths of time – seven years before. U2 were wrong, sometimes something changes on New Year's Day. Sometimes an army of balaclava-wearing Maya peasants occupy a city and get their message across to millions of people. It occurred in San Cristobal de las Casas, state of Chiapas, Mexico, on the first of January 1994.
And there we were, seven years later, in the darkness on the edge of Nurio, and the Zapatistas were there, Subcomandante Marcos was there, for the indigenous meeting took place during the famous and internationally covered March of Dignity.
The March: throngs of people travelling on battered coaches, covering thousands of miles, from the backwoods of Chiapas to a spectacularly crowded Zócalo, the biggest square in Mexico City. Twenty days of travel, twenty days of poetry delivered by Marcos in seven allegorical speeches called the 'Seven Keys'. (more…)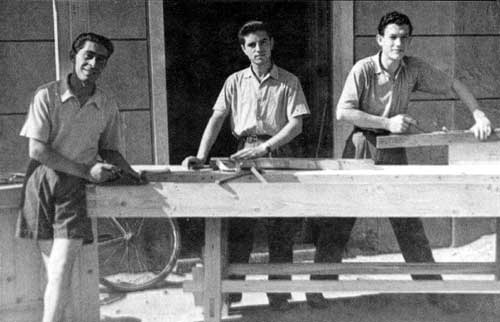 January was a work-filled and travel-filled month, which made us neglect this blog, but we'll make amends for this!
We're still promoting Altai all over Italy (the novel has been in the Top 10 list of Italian fiction for 4 months), we just returned to France to promote Manituana, and Wu Ming 1 went to Kenya and climbed the  mountain that gives its name to the country, walking in the footsteps of this guy.
Benuzzi wrote a famous memoir on his adventure, No Picnic on Mount Kenya, in print
in several countries. WM1′s purpose is to write an Unidentified Narrative Object on Africa, daring escapes, World War 2 POW camps, writers climbing mountains, half-forgotten stories of inconspicuous adventures, and how the Fascist regimes manipulated mountaineering for political propaganda during the 1930s. The investigative journey has just begun, there will be more mountains to climb, people to interview, lost memories to recover, remote archives to consult.

In the meantime, Wu Ming 2 is almost through with another UNO, a quasi-novel that also works as both a trekking guide and a counter-information investigative piece on the Appennines between Bologna and Florence, a narrative survey of what is still beautiful and what has been devastated by all kinds of property speculation and – especially – railway projects. The book is also a spin-off of WM2′s solo novel War on the Humans (2004).

Wu Ming 4 is writing several essays on JRR Tolkien, Robert Graves, TE Lawrence and a dissection of the figure of the "hero" in mythology and popular culture. These essays will be published in book form at the end of 2010. Of course this has to do with WM4′s solo novel Star of the Morning (2008).
All together, we just started research for the second installment of the Atlantic Triptych.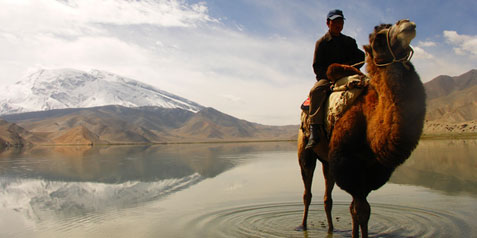 As the Grateful Dead would put it: "What a long strange trip it's been".
On January 1st, 2000, one day after Luther Blissett's "Seppuku", we founded the Wu Ming collective.
A few weeks later, this very website went on line. Ten years of uninterrupted presence on the web. Ten years of conversations, confrontations, communal moments. Thank you all for having made it possible.
With the exception of our comments on the Fluxus-like assault on Burlesquoni, in the last month of 2009 we kind of neglected this blog. We've been (and still are) very much involved in the promotion of our novel Altai, which has sold about 30,000 copies so far, and has generated a huge, rich, multifarious debate. The book tour comprises nearly 60 presentations in 50 cities all over the Paeninsula. We already did 14 of them. Film critic Woody Haut says that we're "indefatigable", we hope he's right.
In the meantime, we spotted some interesting things on the web.
For example, The Independent's Boyd Tonkin ranked Manituana among the best "general fiction" works published in the UK in 2009. Tonkin wrote that "the overthrow of American revolutionary myths in Manituana" reads as "a tale of our times", and added: "the Italian Wu Ming collective craft a splendidly surprising, Mohawk-centred view of white colonists' rebellion against the "Great English Father", George III."
In an interview we gave several years ago (BTW we were too influenced by "post-Operaismo" jargon and autonomo-marxist conceptual frames back then, you can see that in the first answer, but the rest of the interview is still good), we said that
We usually think of an historical period which seems fascinating to us, then we spend months watching microfilms, reading sources, doing research, writing down all kinds of stuff, then the brainstorm comes and it lasts several weeks. We have hallucinations, sort of. Historical research is like peyote to us. After we recover from all the shocks and flashes, we start to write.
In 2002 Nate, the guy running the "What in the hell…" weblog, was unable to grasp the metaphor. What in the hell were we talking about? In what way is researching history like taking peyote?
Eventually, after reading Manituana, Nate understood :-D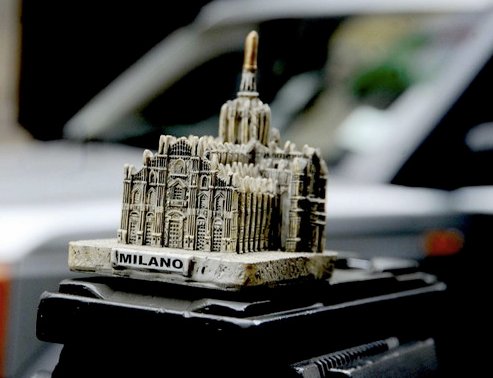 [Yesterday's tweets on what happened in Milan:]
B. called "a miracle" that he survived the assault. No, it's a miracle he's still around after 15 years & with such an obsession for death.
From the hospital: "Why do they hate me?" Maybe he really wonders why. For yrs he's been living in a world apart, surrounded by yes-men.
Little girl, 4 yrs old: "Dad, what happened?" Dad: "A nutter hurt a villain". Little girl thinks it over, then: "It's a stupid story!"
@Meandy maybe Tartaglia and Berlusconi have more things in common than they'd want to know. Two delusional types bumped into each other.
Tartaglia from jail: "I HATE BERLUSCONI!". Yeah, we kind of imagined that. Whatever the reason, how discourteous to jump such a long queue!
One of B's aides "He will not exploit the assault in the next election campaign". Usual self-negating denial, but there's something strange.
It sounds like he and his clique were *really* taken aback, like they're having problems trying to impose the Reichstag frame.
Opposition leader Di Pietro: "I'm no hypocrite, I won't visit B. at the hospital". We Rn't fans of this guy but it's the right thing to say.
Shopping frenzy in Milan. People rushing to buy a Duomo souvenir like the one used to smash Berlusconi's face. No joke, it's happening.
The right-wing wants to shut down websites and social networks where people are boisterously expressing solidarity to Tartaglia.
"Sow wind and reap whirlwind". Because of this title on Di Pietro's blog http://bit.ly/6yTMFP a spokesman for B's party wants it closed down
Reports say he's really in pain & can hardly eat. He didn't expect it. He's shocked. From now on, everything will be different in his life.
RT @synthjock: First Tiger Woods, now Berlusconi. It's really not an auspicious time to be an oversexed billionaire right now.
When politicians get smacked. A top 10 list of assaults, http://bit.ly/5Fd72L
"Berlusconi looked like Floyd Patterson after a 7 round drubbing by Mohammad Ali" CounterPunch http://bit.ly/52Kk6A
Bogus pro-Berlusconi groups on Facebook. Names were changed, hordes of people found themselves enlisted as fans of B. http://bit.ly/71RLxx
Name of a huge FB group raising funds for earthquake victims changed to "Support Silvio Berlusconi against Tartaglia's fans".
t least 500,000 unaware people were passed on as fans of Berlusconi when FB group names were suddenly replaced, reports La Repubblica.
Until this morning, this Facebook group was devoted to promoting Italian brands, then the administrators renamed it http://bit.ly/8t5jfG
Until this morning, this Facebook group with 1 million members was devoted to protecting animals, now look at it http://bit.ly/6kqxUL
"I found him shaken, annoyed – as if woken, really out-of-sorts, from a bad dream." A bad dream. What an interesting thing B.'s doctor said.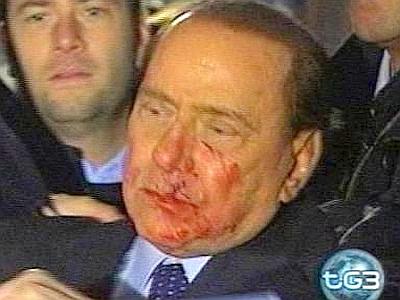 [Here's how we covered the event on twitter last night:]
Berlusconi punched in the face http://bit.ly/6i39Ez Is the Reichstag burning? Is Tartaglia a Van der Lubbe?
Does this really take us by surprise? Wasn't it an orbital event, always on the verge of taking place?
Will there be retaliations tonight? And how long is "tonight"?
Tartaglia, the guy who hit Berlusconi in the face, is a multimedia performance artist, see his "dancing mirrors": http://bit.ly/7x7ZzV
He didn't punch Berlusconi. He hit him with a small model of the Milan cathedral, which one can buy from street vendors. Performance art.
Now, if there's one thing the Milan cathedral is, that's *gothic*, which means acuminated. No wonder it cut Silvio's face http://bit.ly/NfYC
Tartaglia's first words after being arrested: "I am nobody". Are we witnessing the return of Berlin Dada?
Is a Reichstag on fire or "He that flies justice in the court must expect to find it in the street"? Edward Sexby, 1657 http://bit.ly/7lxK6U
Is a Reichstag on fire or "What happened to the king of Portugal is an occupational accident of kings"? Lenin, 1908 http://bit.ly/8bATTF
Years of facelifts & hair transplants & blepharoplastics, fake tan, thick layers of greasepaint, until at 73 he looked weirder than Jacko.
He wanted to turn his own face into a work of art, to challenge aging and death. Each David's foot meets a Piero Cannata with a hammer.
The media is talking about it only in terms of political violence, solidarity with the premier as victim. Bad frame. The Reichstag frame.
We've got to understand what happened last night also in terms of culture, imaginary, the boomerang effect of icons and myths.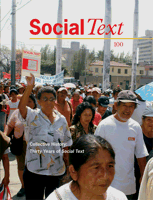 [WM1:] During my stay in New York City I met Ashley Dawson and Gabriella Coleman, two members of the collective editing and running the Social Text journal.
They interviewed me for about two hours. My friend and former fellow Blissett Marco Deseriis aka Snafu, who lives and teaches in NYC, took part to the conversation.
We covered a lot of issues, including our self-critique on how we dealt with "technified myths" in the months leading up to the anti-G8 days in Genoa (July 2001). We also wrote an essay about that, it will be published as an introduction to the collection of Thomas Muntzer's sermons which Verso is going to publish in 2010
. The interview is a good introduction to the introduction…
We also talked about history, historians, Norman Cohn, the Iroquois, the difference between our work and postcolonial studies, contradictions in our cultural militancy, the current situation in Italy, our new novel Altai, the "War on Terror", George Washington's genocidal strategies etc.
You can read the whole thing on the Social Text website.
The Italian bestseller list as appearing today in La Stampa daily paper,
book sales 16-22 November 2009.
Aren't we your heroes?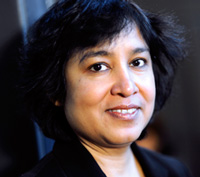 An Open Letter from Italy to Sonia Gandhi, president of the Indian National Congress and chairperson of the United Progressive Alliance, in defence  of Taslima Nasreen, writer, poetess and humanist
Dear Ms Sonia Gandhi,
You, whose roots are in the country where we live, have long been one of the most important and influential politicians in India – a big, complex, vigorous secular nation.
This is the reason why we – Italian writers, intellectuals, poets and artists – write to you, asking that you intervene to help a great writer, known all over the world and long persecuted for no other fault than loving freedom and fighting for the rights and dignity of women: Taslima Nasreen.
As you certainly know, Taslima's native language is Bengali and her country is Bangladesh, but she is prevented from returning there, due to threats and pressures from fanatic Islamist groups that have placed two fatwahs upon her and put several bounties on her head, to punish her pride and counter her battle for freedom and equality of all human beings. (more…)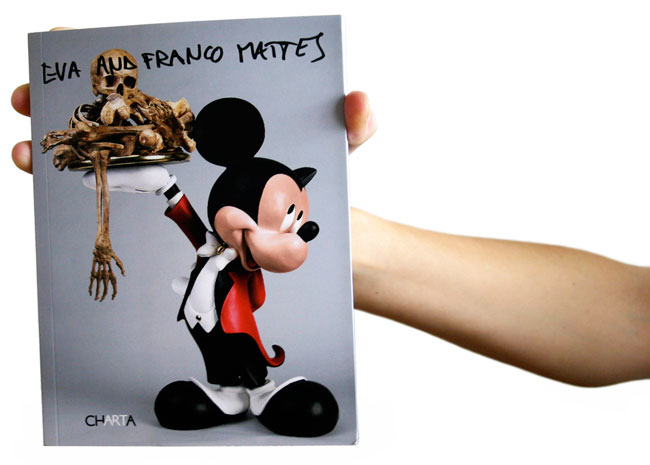 We are among the many co-authors (including the likes of Bruce Sterling and Maurizio Cattelan) of this newly released book covering the 1999-2009 activities of our friends, comrades and former fellow Blissetts Eva and Franco Mattes, aka 0100101110101101.org. In the wake of the LBP's "Seppuku" (December '99), two groups were born of Luther's ashes, and they have never ceased to co-operate closely, e.g. we took part in their United We Stand stunt (a worldwide promotional campaign for a non-existing movie). Here's the book's flap blurb:
Featuring previously unseen works, this book is the first official monograph on the artists-provocateurs Eva and Franco Mattes aka 0100101110101101.ORG. Over the last ten years, the Mattes have manipulated video games, Internet technologies, feature films and street advertising to reveal truths concealed by contemporary society. They have created media facades believable enough to elicit embarrassing reactions from governments, the public and the art world, and they have orchestrated several unpredictable mass performances, staged outside art spaces and involved unwitting audiences in scenarios that mingle truth and falsehood to the point of being indistinguishable.

This book brings together all these exploits, including the anecdotes, indictments and controversies that have always accompanied them. At the same time the book reveals the couple's very first (and until now undisclosed) work: Stolen Pieces. Over two years, 1995-97, they toured the world's most important museums and stole dozens of fragments from well-known works by artists such as Duchamp, Kandinsky, Beuys and Rauschenberg. This work, which has remained a secret for 14 years, is revealed and discussed here for the very first time.
This unique book is a combination of history and fiction, criticism and plagiarism, jesting and journalism.

With texts by Domenico Quaranta, Bruce Sterling, RoseLee Goldberg, Wu Ming, Fabio Cavallucci, Maurizio Cattelan, Joline Blais and Jon Ippolito, Tilman Baumgärtel, Marco Deseriis and Matthew Mirapaul, 144 pages, 243 illustrations
You can order it here: Amazon.com
– Amazon.co.uk

[WM1:]
Arrived in NYC last night. Alone, for WM5 has the flu and couldn't join me. Will stay in town (based at some mysterious place in Brooklyn) until the morning of Nov 24th. To anyone interested in getting in touch: show up at the public events or write to roberto.bui AT wumingfoundation.com or call the friends who are putting me up (
contact info here
).
Tonight, November 18, I'll be at New School, Room 510, Alvin Johnson / J. M. Kaplan Hall, 66 West 12th Street, 8 PM. Free event.
On November 20 I'll at Bluestockings, 172 Allen Street, (Lower East Side, between Stanton and Rivington). 7 PM. Free event.
On November 23 I'll read from Manituana at PS122, 150 First Avenue (East Village, corner of East 9th Street). 7:30 PM. $6.